U.S.: Trump's Attorney General Pick Is Bad News For Legal Marijuana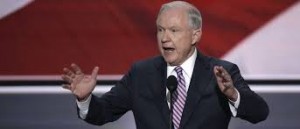 By Derrick Stanley
Hemp News
President-elect Trump announced his pick for Attorney General this morning and it's bad news for the marijuana law reform movement and its recent victories in legalization.
Trump's choice is Alabama Senator Jeff Sessions, known to be a militant prohibitionist. Aaron Herzberg, general counsel at real estate focused marijuana company CalCann Holdings, said Sessions "is the worst pick that Trump could have picked."
"Good people don't smoke marijuana," Sessions said during an April Senate hearing. "We need grown ups in Washington to say marijuana is not the kind of thing that ought to be legalized, it ought not to be minimized, that it is in fact a very real danger.
"To make it socially acceptable creates increased demand and results in people being addicted and being impacted adversely."
"It appears that he is intent on rolling back policy to the 1980's Nancy Regan's 'just say no on drugs' days," Herzberg said in an email. "With the selection of Sessions as attorney general the legalization or marijuana both for medical in 28 states and recreational marijuana in eight states may be in serious jeopardy."
Here are some more of Sessions' infamous statements:
"You have to have leadership from Washington. You can't have the President of the United States of America talking about marijuana … you are sending a message to young people that there is no danger in this process. It is false that marijuana use doesn't lead people to more drug use. It is already causing a disturbance in the states that have made it legal."
"It was the prevention movement that really was so positive, and it led to this decline. The creating of knowledge that this drug is dangerous, it cannot be played with, it is not funny, it's not something to laugh about, and trying to send that message with clarity, that good people don't smoke marijuana."
"Lady Gaga says she's addicted to [marijuana] and it is not harmless."
His former colleagues testified Sessions used the n-word and joked about the Ku Klux Klan, saying he thought they were "okay, until he learned that they smoked marijuana."
Senator Sessions is strongly opposed to the majority of Americans who are in favor of legalizing and regulating marijuana. His appointment could mean trouble for the eight states that have legalized marijuana use for adults over 21 and in the 29 states that have medical marijuana programs. With the authority the office of Attorney General provides, Sessions could immediately get to work attempting to block the implementation of the recent ballot initiatives, dismantling a legal industry in Alaska, Colorado, Oregon, and Washington, and begin conducting massive raids on existing medical and recreational retail stores.
Some in the marijuana industry are hopeful that popularity and support of marijuana will be enough to shield it from Sessions rolling back legalization. An October Gallup poll showed that 60 percent of adult Americans are in favor of marijuana legalization.
"A clear majority of Americans support legalizing marijuana and supermajorities across party lines believe that states should be able to implement their own cannabis laws without federal interference," Marijuana Majority Chairman Tom Angell said via email. "I'm still hopeful the new administration will realize that any crackdown against broadly popular laws in a growing number of states would create huge political problems they don't need."