Virginia: First Hemp Crop Harvested In Decades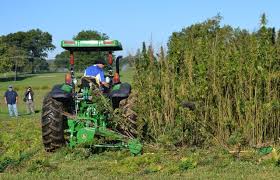 By Derrick Stanley
Hemp News
Virginia is harvesting its first hemp crop grown since the plant was banned 70 years ago.
"People think it was tobacco that started this colony, but it was also hemp," Jason Amatucci, founder and executive director of the Virginia Industrial Hemp Coalition explained to the Richmond Times.
Virginia farmers were actually required to grow hemp during the Colonial Era, some of which was used to provide fiber for the Royal Navy's rope, according to Republican Delegate Joseph R. Yost, a sponsor of Virginia's hemp research bill. "It's funny that we had to pass legalization just to do research," Yost said.
Virginia, along with 30 other states, began establishing hemp research programs after Congress passed the farm bill in 2014, allowing the Virginia Department of Agriculture to license farmers to grow industrial hemp for research purposes.
"It seemed far-fetched to me," Yost admitted, "But the more research and study you do about it, the more you see the possibilities." Yost is a proponent for the economic-boosting potential of industrial hemp, especially in states hurt by the loss of jobs in the dying tobacco industry.
Michael Renfroe is the biology professor at James Madison University who oversaw the hemp research program. He said he believes that the "preliminary results of the research are promising. I think we will be able to find some very useful cultivar for both fiber and oil production." He added that this new commodity could boost small farmers and the state as a whole, "I think this is a crop that has a high potential for growth in Virginia."
The Virginia Department of Agriculture issued 29 licenses across the state, and a total of 37 acres of industrial hemp were planted across six counties.
Virginia's hemp crop is a small step toward nationwide change as more infrastructure gets set up in the United States for fiber and biofuel production.