California: Leo Vapes at SAG Awards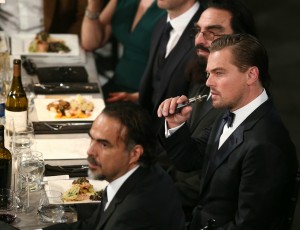 By Derrick Stanley, Hemp News
Leonardo DiCaprio,star of the critically acclaimed movie " The Revenant", was spotted indulging in a few puffs on a vape pen at Saturday's SAG Awards in Los Angeles, Shortly afterward, he was announced as the recipient of the 2016 Screen Actors Guild Award for Outstanding male Actor in a Leading Role.
This would not be the first time that Leo has been known to enjoy a pull in public. In a recent appearance on The Tonight Show Miley Cyrus commented to Jimmy Fallon about being seated near Leo at the Saturday Night Live 40th Anniversary Special. "He was hitting a vape pen," she said."But it wasn't him that was making me kinda nervous--I was feeling this emotion because there's an etiquacy [sic] of, when you're there, that you pass that s**t Leo! And he never did, so that was weird to me."
Leo's chances are looking good for taking home his first ever Oscar for best actor this year, just another reason he will be remembered as a great actor. Just like Bogart.
Image courtesy of Getty Images