U.S.: Congresswoman Challenges Trump Administration on Its Support of D.C. Marijuana Rider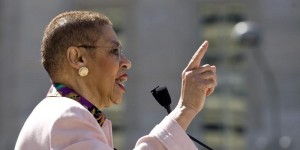 Congresswoman Norton Stands Up to Trump Administration Regarding Harmful D.C. Cannabis Rider
By Michael Bachara
Hemp News
Yesterday, Congresswoman Eleanor Holmes Norton (D-DC) used an Oversight and Government Reform Committee hearing on reauthorizing the Office of National Drug Control Policy (ONDCP), which primarily focused on opioid policy, to challenge the Trump Administration's support of the anti-home-rule rider that bars the District of Columbia from using its local funds to regulate and tax cannabis sales. Possession of cannabis remains legal in D.C. because Norton found a loophole in the rider, which tried to block the District's voter-passed referendum that legalized cannabis altogether.
"Allowing D.C. to tax and regulate marijuana would undermine the illegal marketplace in two important ways: 1) permitting D.C., instead of violent drug gangs and pushers, to control marijuana sales, and 2) keeping marijuana out of the hands of children and facilitating responsible marijuana use by adults," Norton said. "President Trump and congressional Republicans are shamefully abusing congressional authority over the District by preventing the city from taxing and regulating marijuana like alcohol, as the eight states that have legalized marijuana have done. The Republican anti-home-rule rider has unintended consequences that are the reverse of what Congress intended. The rider now acknowledges that possession is legal, but now encourages illegal underground sales, preventing D.C.'s ability to tax sales and from enacting regulations that would safeguard children and the public."
Congresswoman Eleanor Holmes Norton's remarks, which are worth watching, are at minute 57 in the following Youtube video.
Photo Source: Huffington Post