Up Close: 2011 Kentucky Gubernatorial Candidate - Gatewood Galbraith (The People's Champion)
"Only an Independent who doesn't care who gets credit for doing what's right for the people of the state of Kentucky stand the best chance of untying the Gordian Knot and letting both parties operate in the fashion that the well intentioned membership want to work. We're asking you to vote for an Independent who wants to work with you to get the job done." Gatewood Galbraith
By Michael Bachara, Hemp News Correspondent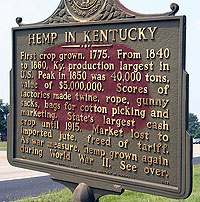 Kentucky Gubernatorial Candidate Gatewood Galbraith (Independent) recently spoke in Portland, Oregon to raise money for his current campaign. Galbraith talked about the history of hemp as a cash crop in Kentucky, his lifetime spent learning and working within the political and legal system, and also his campaign and running-mate Dea Riley.
Explaining his view of Kentucky's current "electile dysfunction," Galbraith addressed the U. S. Governments nanny-state thought-mind (whom we elected) whose goal is to protect us from ourselves, the concept of sovereign human beings and rediscovering the American Revolution with our voices and our votes. "I'm going to reconstruct Kentucky's government…and we're going to rediscover whether America still has a pulse. I believe that people will come from all over America and around the world [to Kentucky] to see what it's like to live free," said Galbraith.
The Kentucky candidate continued his talk explaining the government's right to tax commerce and making available medical marijuana for the sick and dying. He explained how he himself discovered marijuana for an aid to his asthma. "Marijuana is a gateway drug," he said, "a gateway to existentialism."
Galbraith expressed the need for political fund-raising for his campaign and discusses his book (The Last Free Man in America Meets the Synthetic Subversion). The book is Galbraith's exploration of what went wrong it our history with hemp, and how the farmer was taken out of the fuel equation when petroleum fuel products emerged. To this end, he speaks his mind about industrial corruption and discovering there is more than one reality in life.
Galbraith and Hemp Activist Paul Stanford reminisce about their historic trip across Kentucky with Willie Nelson in the early 1990's in the red Mercedes Benz Station Wagon that they ran with hemp bio-diesel and that event's impact on the bio-diesel industry. The trip even inspired Nelson's own bio-diesel company.
Galbraith also reviewed his top three action items upon becoming Kentucky's governor. First, there is a need to restore to the people the integrity, honesty and trust in the government by ceasing the politics of retribution and beginning an era for politics of achievement by allowing the people a chance to do right. Second, he discusses his plan to restore hemp as a cash crop for the citizens of Kentucky. Third, Galbraith explains the urgency for pharmaceutical companies to do right by the people.
Galbraith expressed his concern with the current wave of political party partisanship, what being an Independent candidate means in relation to that partisanship and how that is reflected in the momentum of the Gatewood/Riley 2011 campaign. "All we want to do is what's right for the people," he pronounced.
Galbraith also reviewed his stance on mountain top removal and the impacts on the environment. He expressed his views on being a gracious Governor and the importance of honoring our veterans for their service to our country. He feels that there is a weak field for 2011 Governor and there is a need for enthusiastic individuals to get involved with the Gatewood/Riley campaign of 2011 so they can succeed in their goals for the state of Kentucky.
Time4Hemp's Casper Leitch talks about the character of his good friend Gatewood Galbraith and gives multiple reasons as to why he feels Gatewood would excel as the Governor of Kentucky.
For more information about the campaign: Please see http://www.gatewood.com/
Gatewood & Riley 2011 Facebook page: http://www.facebook.com/group.php?gid=96154786018
Contact: Gatewood Galbraith Candidate for Governor – 859-433-3567
Dea Riley Candidate for Lt. Governor – 502-395-3159


Photo Source: Gatewood and Willie, High Times, January 1991
http://stillisstillmoving.com/willienelson/willie-nelson-and-gatewood-ga...