Arizona: 25-Mile Law Restricting Homegrown Medical Marijuana Is Challenged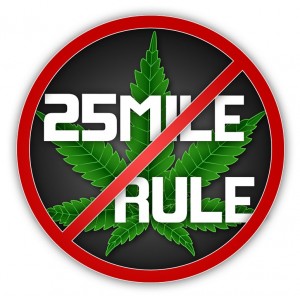 By Steve Elliott
Hemp News
An attorney representing Arizona's top health official says that a constitutional right to control your own health care does not mean that medical marijuana patients have the right to grow their own cannabis.
Attorney Gregory Falls, representing Arizona Health Director Will Humble, is asking Maricopa County Superior Court Judge Katherine Cooper to throw out claims by two men that, as legally registered medical marijuana patients, they are constitutionally entitled to plant, grow and harvest their own supply, reports Howard Fischer ofCapitol Media Services in the Arizona Daily Star.
According to Falls, the fact that Arizona voters allowed those with a doctor's authorization to obtain and use cannabis does not mean patients can ignore other provisions of the medical marijuana law. The law approved by voters in 2010 says patients living within 25 miles of the nearest state-licensed dispensary have to buy their marijuana from the store.
The ability for nearly 40,000 Arizona medical marijuana patients statewide to legally grow their own hangs on the outcome of the battle. A decision against Humble would mean each of them has the right to grow up to 12 plants.
Despite the fact that allow all patients (not just those who live farther than 25 miles from the nearest marijuana dispensary) to grow at home has worked in other states, Humble claimed all that growing would occur "without state oversight." "It turns into a free-for-all," he said.
The 2010 initiative as approved by voters allows patients with certain qualifying medical conditions and their physician's recommendation to buy two ounces of marijuana every two weeks.
A network of dispensaries is being developed around the state; the law says that anyone who lives 25 miles or more from the nearest dispensary can grow their own, up to 12 plants at the time.
With no dispensaries open until earlier this year, that gave growing privileges to any patient with an Arizona medical marijuana card. But when those annual cards came up for renewal, Humble checked his list of operating dispensaries and took growing privileges back away from any patient within 25 miles of a dispensary.
Lawyer Michael Walz, who represents to two men, said the requirement to buy from a dispensary violates a 2012 constitutional amendment banning any law that requires anyone to "participate in any health care system," a reaction of state lawmakers to Obamacare.
But Falls said Walz is missing the point; he said nothing in the medical marijuana law requires anyone to participate in the program.
"Prohibiting someone from self-supplying controlled substances, even if the purpose is medical, is not the same as compelling someone to participate in a health-care system," Falls wrote. "Those who volunteer to participate must follow the terms of the Arizona Medical Marijuana Act and rules."
Falls also said that the law doesn't require insurance companies to provide coverage for medical cannabis. That means those who wrote the law expected patients to pay for their own marijuana, according to Falls, and he claims the entire lawsuit is based on the desire of the two men not to pay for health care services related to medical marijuana.
"They want to 'grow their own,'" Falls wrote sarcastically. "Maybe they also want to self-supply other controlled substances." (Neither of the patients, of course, is asking for that, and for Falls to suggest so is patently ridiculous and quite insulting.)
Humble claimed the provision denying growing privileges to patients who live near dispensaries makes sense. "When folks are growing their own plants, there's absolutely no way to prevent diversion of that marijuana to other than qualified patients," he claimed.
Humble bragged about his agency's "robust inventory controls," adding "But when people are growing marijuana in their own houses ... there's this big opportunity for diversion to folks that are not qualifying patients."
(Graphic: No 25 Mile Rule Arizona