Florida: Attorney General Asks State Supreme Court To Throw Out Medical Marijuana Initiative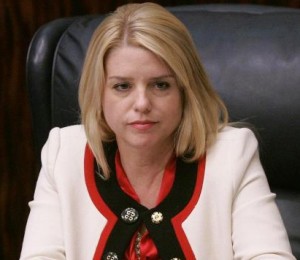 By Steve Elliott
Hemp News
Florida Attorney General Pam Bondi is challenging a proposal to put a ballot measure which would legalize medical marijuana before state voters in the November 2014 general election. Bondi on Thursday sent a petition to the Florida Supreme Court, along with the campaign's ballot language and petitions.
Atty. Gen. Bondi claims that People United For Medical Marijuana (PUFMM), led by Orlando attorney John Morgan, filed misleading ballot language in describing how widely medical marijuana would be allowed under the measure, reports Scott Powers at the Orlando Sentinel.
Bondi also complained that the ballot language failed to note that even if Florida voters approve the measure, marijuana will still be illegal under federal law.
"Its true scope and effect remain hidden," Bondi claimed in her petition to the Supreme Court.
She charged the wording was too broad and would allow doctors to authorize medical marijuana for almost any condition, and additionally argued that medical marijuana could not be called "legal" as long as it's illegal under Schedule I of the Controlled Substances Act in federal law.
Bondi's arguments would come as quite a surprise to the patients of California, who have had safe access to medical marijuana for 17 years under state law, and to patients in 19 other states which also passed medical marijuana laws without asking for federal permission.
She accused PUFMM of "hiding the ball" from voters, and said the Supreme Court should throw out the proposed ballot initiative.
Morgan, chairman of PUFMM, has in the past defended the ballot language, saying it was drafted under the careful direction of constitutional law expert Jon Mills.
(Photo of Florida Atty. Gen. Pam Bondi: Steve Cameron/AP)