Oregon: Iconic Hempster Gatewood Galbraith to Hold Fundraiser at Clinton Street Theater in Portland
"Every generation must re-win its own freedoms." - Gatewood Galbraith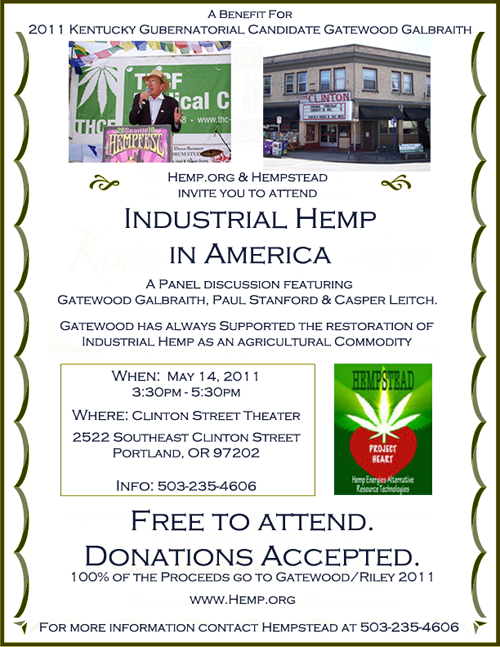 By Michael Bachara, Hemp News Correspondent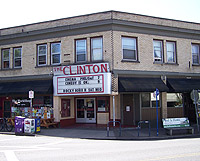 Who: 2011 Kentucky Gubernatorial Candidate, Gatewood Galbraith; Executive Director of Campaign for the Restoration and Regulation of Hemp (CRRH), Paul Stanford; and Time 4 Hemp Radio Host Casper Leitch.
What: Fundraiser for Gatewood Galbraith 2011 Kentucky Gubernatorial Campaign. Topic is "Industrial Hemp in America". Free to attend, but donations are accepted. Refreshments provided.
When: Saturday, May 14 - 3:30-5:30pm
Where: Clinton Street Theater
2522 South East Clinton Street
Portland, Oregon 97202-1239
(503) 238-8899
http://www.clintonsttheater.com
Why: Now's the Time....Whether you support the Teapot Party, Tea Party or any other party, this candidate appeals to a wide variety of voters and is sure to stir up some governmental changes across the United States.
Gatewood Galbraith is currently campaigning for Kentucky's 2011 gubernatorial race as an Independent, free from any party affiliations, and describes himself as free from hidden agenda. His pledge is to end the "synthetic subversion" in his state.
Earlier this year, Willie Nelson, creator and spokesperson of the newly formed Tea Pot Party, officially announced the group's first endorsement for a U.S. political race: Independent candidates Gatewood Galbraith and Dea Riley for Governor and Lt. Governor of Kentucky. It is a move sure to shake up the status quo and the Galbraith/Riley ticket would be a fresh beginning for a state aiming to achieve greater economic results.
"I am a longtime friend of Gatewood Galbraith. We crossed Kentucky in a car that ran on hemp fuel one time when he ran for governor. I think the teapot party should back him this time. He is a good man and will do a good job," proclaimed Nelson.
"We have a winning shot this time if we can raise significant money. We don't need as much as the other guys. We just need to show we are viable. Money does that," stated Galbraith.
For more information about our event, please call 503-235-4606.
Gatewood & Riley 2011 Facebook page: http://www.facebook.com/group.php?gid=96154786018
Tea Pot Party Facebook page: http://www.facebook.com/TeapotParty
Contact: Gatewood Galbraith Candidate for Governor – 859-433-3567