Georgia: Senate Panel OKs Bill To Legalize Marijuana-Derived CBD Oil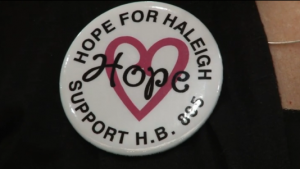 By Steve Elliott
Hemp News
A Georgia Senate committee this week unanimously approved a newly revised bill which would legalize the marijuana derivative CBD oil for treatment of patients with seizure disorders, cancer, and glaucoma.
The Senate Health and Human Services Committee amended House Bill 885 to make it easier for state residents to gain access to cannabidiol oil, a non-psychoactive derivative of cannabis, reports Charles Craig at Online Athens.
The change would grant immunity from prosecution in Georgia for possession of CBD oil legally obtained in another state that permits the use of medical marijuana.
HB 885 was originally introduced by Rep. Allen Peake (R-Macon), who championed the bill to help children suffering from severe seizure disorders. CBD has proven effective in quelling the severity, frequency and duration of seizures, according to parents and doctors.
Under the revised Senate committee version of HB 885, patients with seizure disorders, cancer or glaucoma could use CBD oil as soon as they were able to obtain it from outside the state. Patients could also take the oil directly without supervision by a Georgia physician or an academic medical center under the revised version of the bill.
But there's still a legal catch, even if the bill passes. Transporting any marijuana product across state lines is a federal crime; that means Georgia parents or adult patients would risk arrest by federal agents if caught bringing in CBD oil from another state such as Colorado, where it is manufactured.
Some families have already left Georgia to secure legal access to the CBD oil for their children.
Sen. Fran Millar (R-Atlanta) claimed he "supports the intent" of helping children with seizures, as well as cancer and glaucoma patients, but said he was "worried" that the bill would "condone illegal behavior" (as if that's worse than letting sick kids die).
"Let's leave that decision to parents," Rep. Peake responded. "If they are willing to take the risk that a TSA agent will arrest them with a vial of oil, let's let them make the decision."
Parents of three children who suffer from uncontrolled seizures urged the committee to approve the bill. Jenea Cox, whose 4-year-old daughter, Haleigh, who suffers from up to 200 seizures a day, told the lawmakers she would be moving to Colorado to get the oil. "I can't wait any longer," she said.
Ironically, Haleigh, who was at the Senate hearing, was the original inspiration for Peake's bill, which he called Haleigh's Hope Act.
The revised Senate committee version of the bill was written with input from the Prosecuting Attorneys' Council of Georgia, whose legislative counsel, Gwinnett County D.A. Danny Porter, testified in favor of the legislation. Porter said the Georgia Bureau of Investigation had reviewed the bill's language.
The Georgia Sheriffs Association also supports the bill.
The new Senate version deletes a provision in the original House bill which would have allowed academic medical centers in Georgia to grow cannabis and manufacture the CBD oil.
If the committee's version of HB 885 is passed by the full Georgia Senate, it will be renamed the "Kids Care Act," according to committee Chairwoman Renee Unterman (R-Buford). The Senate bill would then be referred to a House-Senate Conference Committee to resolve differences with the original bill, which was approved by the House.
Peake told the committee "there may be some pushback" from the House on the Senate version. He said his House colleagues may resist an unrelated rider provision that was tacked on in the Senate, which requires insurance coverage for autism.