Hawaii: Marijuana Advocate Roger Christie Enters Guilty Plea After Three Years Behind Bars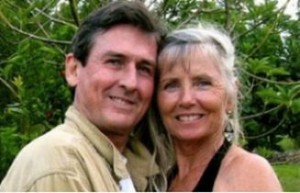 By Steve Elliott
Hemp News
After spending the last three-and-a-half years in federal prison with no bail, Reverend Roger Christie, the founder of a Hawaii-based ministry that promoted marijuana use as a religious sacrament, pleaded guilty on Friday in federal court to possession of almost 300 cannabis plants, but reserved the right to appeal his case based on religious grounds.
Christie's case has received national attention, with cannabis advocates saying his pre-trial detention with no bail is unconstitutional. Many called him a political prisoner in the War On Drugs.
Christie, who founded The Hawaii Cannabis Ministry (THC Ministry), entered a guilty plea to one count of conspiring to manufacture, distribute and possess marijuana and two counts of failing to file tax returns, for the years 2008 and 2009, reports John Burnett at the Hawaii Tribune Herald.
Sentencing is scheduled for January 22 at 2:45 p.m., before U.S. District Judge Leslie Kobayashi. Christie faces up to 20 years' imprisonment on the marijuana charge, with a mandatory minimum of five years. The maximum term on each tax offense is one year.
Christie will forfeit is Wainaku apartment as part of the plea deal. He will also forfeit the $21,494 confiscated by federal agents during a raid in 2010.
Other marijuana-related charges against Christie were dropped as part of the plea deal.
"Roger and Share are not giving up their fight today," said attorney Thomas Otake, who represents Roger. "They're simply taking their fight to a higher court."
Otake said that ruling put the Christies at a disadvantage, and they decided to take their cases to the 9th U.S. Circuit Court of Appeals. In a very unusual deal, the Christies will be allowed to appeal their convictions to the 9th Circuit Court of Appeals in San Francisco, and possibly all the way to the U.S. Supreme Court.
Otake said his client decided to plead guilty after Judge Kobayashi ruled against allowing a defense based on the Religious Freedom Restoration Act of 1993, which allows certain Native American religions to use the psychedelics peyote and ayahuasca as sacraments.
Roger Christie could be released in about six months, under federal sentencing guidelines, with credit for more than three years he has been held without bail, according to Otake. But Christie acknowledged in court on Friday that his sentence isn't bound by his plea agreement, report Ken Kobayashi and Sarah Zoellick at the Honolulu Star Advertiser.
Roger's wife, Sherryanne "Share" Christie, 62, has been free on bail since 2010, when federal agents arrested the couple, along with 12 other people. She'll remain free on bail during the appeal.
Share Christie also pleaded guilty to one count of conspiring to manufacture, distribute and possess marijuana. Share, who appeared in court holding a white purse with an embroidered marijuana leaf, also reserved the right to appeal her case on religious grounds. She could receive up to 20 years in prison.
"We anticipate a sentencing recommendation from the government in the neighborhood of 27 to 33 months, and we reserve he right to argue for less than that," said Lynn Panagakos, Share Christie's attorney, reportsKITV. "We are hopeful that the court will grant Share Christie bail pending appeal, so in the event we're vindicated on appeal, Ms. Christie will never have to spend a day in jail."
"The larger picture (is) that we do want to see the War On Drugs gone," Share Christie told KITV4. "You know it's been a war on our people, (and) we are missing generations."
"For the good of the people, we can start really looking at cannabis in a more enlightening way as the Tree of Life," Share said. "That's why we're here. We really feel it is the Tree of Life, and that it can heal the nations."
The charges resulted in part from wiretaps on Christie's business and personal telephones, as well as searches of his home and safe deposit box.
Federal agents claimed they seized 3,000 marijuana plants during raids on the Christies and their codefendants three years ago. They also claimed they seized nine firearms.
"We believe, and from the undercover wiretapping investigation that we did in this case, that the religious idea is merely a front that camouflaged a long-term marijuana trafficking operation," claimed the prosecutor, Assistant U.S. Attorney Michael Kawahara.
But Otake said Kawahara's claim contradicted the judge's ruling, which said he accepted the church as a legitimate ministry, but said the government had a "compelling interest" in regulating it.
(Photo of Roger and Share Christie: Salem News)