Indonesia: Rallies Planned In 7 Cities For Global Marijuana March, Saturday, May 3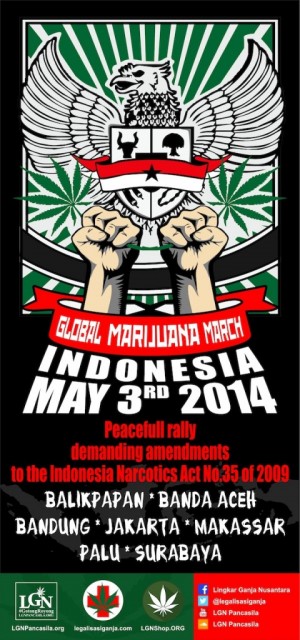 The Indonesian cannabis reform group Lingkar Ganja Nusantara (LGN) will hold rallies in conjunction with the Global Marijuana March in seven cities across Indonesia this Saturday, May 3.
Rallies will be held in Banda Aceh, Jakarta, Bandung, Surabaya, Makassar, Palu and Balikpapan, according to a press release from LGN.
This peaceful rally, held annually on the first Saturday of every May, is coming into its fifth year in Indonesia. This year marks a unique step for Indonesia's cannabis movement as six other cities, in addition to Jakarta, are launching their very own local events in conjunction with the Global Marijuana March.
The GMM rallies are held not only in Indonesia, but simultaneously all over the world. This year, more than 143 cities in 33 nations worldwide will have their own marches; North America, Latin America, Africa, Europe, Asia and Oceania will all unite in support of cannabis legalization.
'The cannabis legalization declared by LGN is different from the current legalization battle striking the United States and its allies," LGN'S press release reads. "The cannabis legalization demanded by LGN is the formation of a law and subsequent policy for the nation to manage cannabis, which must be in tune with our constitution, Pancasila. Our arguments are built on basic, scientific knowledge recognizing three main benefits of cannabis."
According to LGN, these are (1) medicinal value; (2) agricultural value; and (3) recreational value.
"Knowledge on these three main values of cannabis is where we will draw our strengths to amend the Narcotics Act," the LGN statement reads. "We will fight our battle against cannabis oppression by voicing out the truth until it is heard; until it is understood."
According to LGN, the amendment of the Narcotics Act is just the first step to increase awareness among both the people and the government on just how alienated Indonesia has become "from the promises and aspirations of our proclamation on independence."
"Our nation has lost its identify, its true soul, for far too long," the statement reads. "Such is considerably portrayed with the drafting of the current Narcotics Act, sourced not from our own constitution, the nation's Pancasila, but from the United Nations Single Convention on Narcotics of 1961."
"Through this year's GMM peaceful rally, let us all strengthen our fighting spirit to reroute Indonesia back to its soul," the group's statement reads.