Up Close: John Sinclair - Free the Weed
By Michael Bachara, Hemp News Correspondent
Every once in a while an activist comes along that changes the way a political issue is perceived. Last month, Paul Stanford of the Campaign for the Restoration and Regulation of Hemp (CRRH) had the opportunity to interview such a man, John Sinclair. In Stanford's interview (above), Sinclair discusses the current medical cannabis community and gives his views on where he hopes the cannabis legalization movement will evolve.
Sinclair, an iconic American poet from Flint, Michigan, is the former leader of the White Panther Party, which was an anti-racist counter cultural group of white socialists seeking to help the Black Panthers in the Civil Rights movement from November 1968 to July 1969.
Sinclair has also been steering the marijuana counter culture towards legalization since 1965. He was introduced to marijuana activism after receiving, from New York City, a marijuana flier from Allen Ginsburg and Ed Sanders' pro marijuana group LeMar (Organization to Legalize Marijuana). Being familiar with a print press, Sinclair created his own marijuana flier and began holding monthly meetings to end marijuana prohibition in the state of Michigan.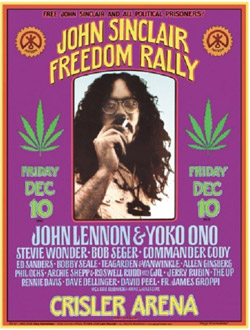 His efforts were not appreciated by the administration at the time and Sinclair was sentenced to 10 years in prison in 1969 after giving two joints of marijuana to an undercover police officer.
Sinclair's conviction prompted the landmark "John Sinclair Freedom Rally" at Ann Arbor's Crisler Arena in December 1971. This rally brought together John Lennon, Bob Seger, Allen Ginsberg and many others to demand immediate freedom for political prisoners.
Three days after said rally, Sinclair was released from prison when the Michigan Supreme Court ruled that the state's marijuana statutes were unconstitutional. The series of events are what inspired Ann Arbor's annual Hash Bash rally, which continues to be held annually.
Sinclair currently has a show on Radio Free Amsterdam, heard around the world. According to the station's website, "Radio Free Amsterdam was founded to preserve traditional arts radio programming formats in the internet age and provide unique roots music and arts programming contributed by independent broadcast producers." John Sinclair serves as Program Director and the John Sinclair Radio Show was among the first internet radio programs to podcast and archive its shows.
At the conclusion of the interview, Stanford asks Sinclair what his message is for fellow activists today. His answer is simple, "Free the Weed."
Sinclair went on to say, "I like Matt Abel's language, the idea of ending marijuana prohibition. I think that what they did with The 2012 Michigan Ballot Initiative to End Marijuana Prohibition was to mandate, if passed, the removal of marijuana from any of the statutes of the state of Michigan. I think that would open the door for the marijuana culture I would like to see."
Although Sinclair is now a free man, we must remember to unite behind the current prisoners of this cannabis tyranny. One current prisoner, Patricia Spottedcrow, 26, was originally given a 12-year prison sentence in a blind plea before a judge for selling $31 worth of marijuana in Oklahoma. After public support, similar to the rally behind Sinclair, Spottedcrow is now in the process of having her sentence lessened and combined with probation.
If we can continue to support our fellow legalization activists and fight for what is right, we will be able to free each other and free the weed.
Video Source: Up Close: John Sinclair - Free the Weed
http://www.youtube.com/watch?v=yDw-bIUvAWs
20 To Life - The life and times of John Sinclair
http://www.youtube.com/watch?v=tRcpEN755lI