Kentucky: GOP Lawmaker Offers To 'Fill Committee Room' With People Affected By Marijuana Deaths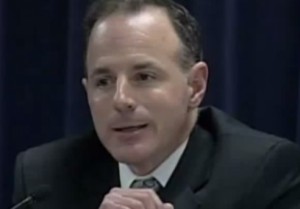 By Steve Elliott
Hemp News
Will somebody please drag Kentucky Rep. Robert Benvenuti into the 21st Century? The Republican lawmaker, in a hearing on legalizing medical marijuana in his state, said the risks of pot are too high, and offered to "fill this committee room" with "parents of dead children based on the effects of marijuana."
Rep. Benvenuti's acute case of Reefer Madness brought some unintentional comedy to the proceedings, but it would be a lot funnier if this clown weren't in a position of power, denying life-saving medical treatments to patients with terminal and debilitating illnesses.
The fact-challenged legislator cited Kentucky's high rates of illegal and prescription drug abuse as reasons why it would be too dangerous to legalize medical marijuana in the Bluegrass State.
"I do not believe in the recreational use of marijuana," Benvenuti said, "and I could likewise fill this committee room with first responders, law enforcement officers and parents of dead children based on the effects of marijuana."
The assembled crowd was having trouble believing that a public official could make such an outlandish statement in a legislative hearing. As a protest started to spontaneously erupt from the crowd that marijuana is not a deadly substance, Rep. Benvenuti forged ahead.
"In driving intoxicated, in child abuse, we've already heard today from folks who talk about intoxicants and its role in child fatality and child abuse," he said. "So we need no more recreational drugs in Kentucky."