Maine: Ballot Initiative To Legalize Marijuana In Portland One Step Closer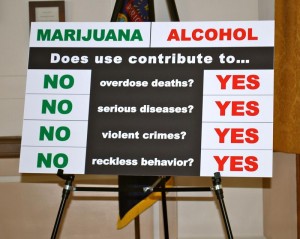 By Steve Elliott
Hemp News
A measure to legalize the possession of small amounts of marijuana for adults in Portland, Maine, is likely to be on the ballot this fall.
A coalition led by the Portland Green Party on Thursday morning handed in petitions with more than 3,200 signatures to city officials, the first step in getting the proposal on the November ballot, reports the Portland Press Herald. The city requires 1,500 valid signatures for citizen initiatives to qualify for the ballot.
The proposal would allow adults 21 and older to possess up to 2.5 ounces of marijuana, while prohibiting its use in public spaces such as parks, schools, and sidewalks.
The law is vague on how adults could actually get marijuana, but according to Tom MacMillan, chair of the Portland Green Independent Committee, it's "likely" to be available through existing medicinal cannabis dispensaries (which we don't see as likely at all, unless and until the law changes on a statewide level). Distribution would be left up to the Portland City Council if the ordinance passes, MacMillan said.
Legalizing pot could lead to less use by young people, because it could eliminate the black market and make buying cannabis subject to the same type of age checks as alcohol purchases, MacMillan said.
"Portland residents have excitedly rushed to sign petitions despite cold, snowy weather, and we think this is a sign of what is to come," MacMillan said, reports Amber Cronin at the Falmouth Forecaster. "Our city and state are wasting money going after marijuana users while real problems are happening.
"This policy will remove penalties for responsible adults because it has been proven again and again to be safer than alcohol," MacMillan said.
"We feel that marijuana should be treated the same way as alcohol because marijuana is safer than alcohol," said Portland City Councilor David Marshall, who quoted former President Jimmy Carter's famous statement that penalties for possession of a drug shouldn't be more harmful than the drug itself.
"Jailing individuals who use marijuana recreationally makes no sense from a civil liberties perspective, from a civil rights perspective or from a fiscal perspective," agreed Zachary Heiden, legal director for the American Civil Liberties Union (ACLU). Heiden said that although marijuana is still illegal at the state and federal levels, enforcement of a new law in Portland could be left up to the Portland Police Department.
(Photo: The Forecaster)