Maine: Citizens To Submit Petition To Support Lewiston Marijuana Legalization Initiative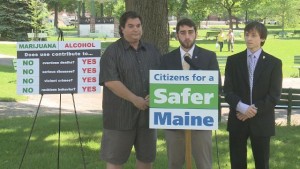 Citizens for a Safer Maine on Friday will submit its final batch of petitions in support of a citizen initiative to make private marijuana possession legal for adults 21 years of age and older within Lewiston city limits.
The group has collected more than 1,250 total signatures, and just 859 valid signatures of registered city voters are needed to qualify for the ballot. The city clerk has 10 days to certify the petition. Then it must submit it to the city council for consideration at its next regular meeting, at which time council members can enact the measure or refer it to city voters.
"I hope council members will join us in supporting this commonsense measure," said David Boyer, spokesperson for Citizens for a Safer Maine and Maine political director for the Marijuana Policy Project. "If they don't enact the measure, it should be placed on the November ballot for Lewiston voters to decide."
Citizens for a Safer Maine has qualified a similar measure for the ballot in South Portland, and it is in the process of collecting the final signatures needed to place one on the ballot in York.
"Law enforcement officials have better things to do than punish adults for using a less harmful substance than alcohol," said Boyer. "If the council or voters approve this measure, we expect police to respect the decision.
"Police can refrain from citing adults they find in possession of marijuana, just as they can refrain from citing someone they find driving 10 miles per hour over the speed limit," Boyer said.
Citizens for a Safer Maine will hold a media availability at 11 a.m. ET on Friday in front of Lewiston City Hall prior to submitting its final petitions to the City Clerk's Office.
Photo: Marijuana Smoker