Maine: DHHS Says Medical Marijuana Can't Be Used For Tourette's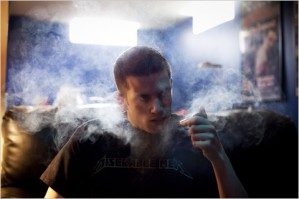 By Steve Elliott
Hemp News
Patients in Maine won't be legally allowed to use medical marijuana to treat Tourette's syndrome, state public health officials decided this week.
The Maine Department of Health and Human Services (DHHS) denied a request by Dr. Dustin Sulak to add Tourette's to the list of medical conditions which qualify patients for medicinal cannabis, reports The Associated Press.
Dr. Sulak said a letter signed by DHHS Commissioner Mary Mayhew arrived on Christmas Eve, denying the request without offering any explanation for the decision.
Sulak and his patient, Peter Hasty, had testified at a November hearing that cannabis helped Hasty's muscular tics caused by Tourette's.
Hasty said that if he couldn't use cannabis to treat several muscular tics caused by Tourette's, he would be confined to his home in Ellsworth, reports Joe Lawlor at the Morning Sentinel.
"I would not be able to go out the door," he said. "It has has vastly improved my qualify of life."
"Tourette's syndrome does have human studies showing that (marijuana) helps, and it's not like there's other good options," Dr. Sulak said.
There have been successful reports in medical journals regarding treatment of Tourette's with cannabis.
(Photo: New York Times)