Maine: Lewiston City Council To Consider Proposal To Make Marijuana Legal For Adults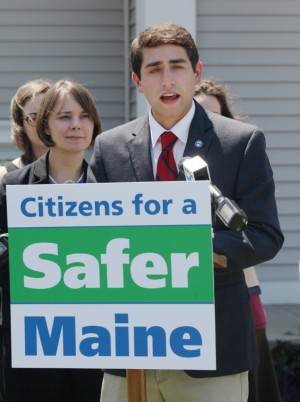 The Lewiston City Council on Tuesday night will consider a citizen-initiated measure at its meeting that would make private marijuana possession legal for adults. The council can enact the proposed law or place it on the November 4 ballot.
Citizens for a Safer Maine submitted more than 1,250 signatures to place the measure in front of the council. Just 859 valid signatures of registered city voters were required.
Citizens for a Safer Maine qualified a similar measure for the ballot in South Portland and recently collected the final signatures needed to place one on the ballot in York.
The initiative would make it legal for adults 21 years of age and older to possess up to one ounce of marijuana. It would remain illegal to consume or display marijuana in public.
The measure also includes a statement in support of regulating and taxing marijuana like alcohol at the state level.
"Lewiston resources are being wasted arresting responsible adults for using something with far less personal and social costs than alcohol," said Marijuana Policy Project (MPP) Maine political director David Boyer. "We hope the council will see the sense in using law enforcement resources for serious issues, but if they don't, the citizens of Lewiston will."
WHAT: Lewiston City Council hearing on a citizen-initiated measure that would make private marijuana possession legal for adults
WHEN: Tuesday, September 2, 7 p.m. ET
WHERE: Lewiston City Hall, 27 Pine Street, Lewiston, Maine
WHO: Lewiston City Council
David Boyer, Marijuana Policy Project