Maine: Marijuana Legalization Takes Effect In Portland; Officials Warn Against Public Celebration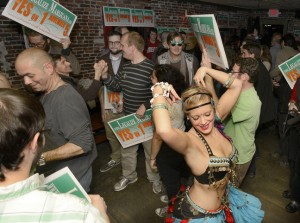 By Steve Elliott
Hemp News
A new ordinance removing all penalties for marijuana possession took effect on Friday in Portland, Maine, and nervous city officials are trying to head off the kind of celebration that took place on election night last month.
Several cannabis advocates celebrated the lopsided victory in November by smoking a foot-long joint outside a downtown bar, reports Randy Billings at the Portland Press Herald.
"The ordinance clearly says you can't do it in public," said City Councilor David Marshall, a member of the Portland Green Independent Committee, which led the legalization drive. "We certainly hope people respect the ordinance."
Two thirds of Portland voters -- an overwhelming 67 percent -- on November 5 voted to legalize possession of up to 2.5 ounces of marijuana for adults 21 and older. Under the ordinance, adults are allowed to possess marijuana in public, but not use it openly.
It is still illegal to buy or sell cannabis in Portland, and landlords can still ban pot smoking in their apartments.
Medical marijuana is already allowed under Maine state law. Maine is also one of 16 states that have decriminalized possession, meaning anyone caught with under 2.5 ounces is subject only to a civil summons and a fine, not criminal charges.
Portland Police Chief Michael Sauschuck said that police will continue enforcing Maine state law, since it supersedes city ordinances. From July 2012 to July 2013, Portland police issued 54 summonses for marijuana.
Four citations for marijuana possession and four for paraphernalia possession have been issued in Portland since voters approved the legalization ordinance last month.
Officials in Jackson, Michigan, have said they will respect the legalization ordinance approved by voters there last month, and will not arrest people for possessing cannabis on private property. Marshall said he'd like to see Portland police follow their exsample.
Marshall described the election-night celebration in which a foot-long joint was fired up in public as "unfortunate," and noted it was quickly snuffed out by the Greens campaign and staff at Brian Boru, where the victory party was held.
(Photo: Belly dancer Whitley "Nabintu" Marshall dances as proponents of Portland's Yes on One celebrate at Brian Boru in Portland on Nov. 5 -- Portland Press Herald)