Michigan: Activists Decry Discrimination Against Medical Marijuana Patients And Caregivers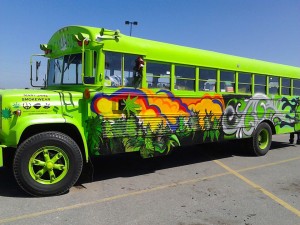 The world famous CannaBUS was parked in front of the Jackson County Courthouse on Monday to show support for Maria and Steve Green as they go to court once again. Since her return in October 2013, "Baby Bree" still has not had contact with her older brother. Supporters question the validity of Green's supervised parenting reasons.
Brielle "Free Bree" Green was returned to her home on October 25, 2013 by Child Protective Services personnel. Now, six months later, Jackson County Circuit Court Judge Susan Beebe still has not allowed Maria Green's older son to return to her home. Court record shows that the reason for this is because the child needs time to reacquaint himself with his mother.
"My son was kept from me illegally in the first place," said Maria Green, 32. "I don't understand why we need to be reacquainted. A kidnapped child doesn't spend months getting reacquainted with his family when he's been found."
The Michigan Medical Marihuana Act was passed with overwhelming 63 percent voter support statewide in 2008. Specific protections were written into that voter-initiated law to protect parents from being denied custody or visitation of children due to caregivers and/or patients status with the State. (MMMA: (4) (c) "A person shall not be denied custody or visitation of a minor for acting in accordance with this act, unless the person's behavior is such that it creates an unreasonable danger to the minor that can be clearly articulated and substantiated.")
Green had initially filed for a change in custody in December 2012. After a history of alleged domestic abuse, the child's father, Ronald Ferguson, 32, continues to use the court system and CPS as a way of retaliating against Green. Sixteen months later, the Greens said they still do not see an end in sight.
Facebook Event: https://www.facebook.com/events/1394735860791907/