Michigan: Supreme Court To Eye Local Bans On Medical Marijuana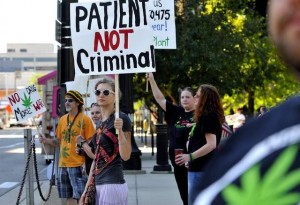 By Steve Elliott
Hemp News
The Michigan Supreme Court is looking at a historic case that will determine whether Michigan communities can ban medical marijuana and possibly whether state residents can keep using cannabis at all for medicinal reasons.
Those united against medical marijuana patients include the State Bar of Michigan and the Prosecuting Attorneys Association of Michigan, both of which are trying to get the entire medical marijuana law thrown out, reports Bill Laitner at the Detroit Free Press.
That would cancel the wishes of the 63 percent of Michigan voters who approved the medical marijuana law in 2008, according to groups opposing the medical marijuana ban, which include the American Civil Liberties Union of Michigan and the libertarian Cato Institute, based in Washington, D.C.
A few Michigan communities have passed bans on medical marijuana "that carry serious penalties, and that includes jail time," according to activist Tim Beck, 61, of Detroit. The ordinances "didn't even mention medical marijuana -- they just said that any activity that was illegal under federal law was also illegal in their community," Beck said.
The case stems from retired attorney John Ter Beek's 2010 lawsuit to overturn a medical marijuana ban in Wyoming, a suburb of Grand Rapids. Ter Beek is a state-registered medical marijuana patient with a paintful neurological disorder and diabetes, according to the lawsuit.
He lost in court, but won with a 3-0 ruling in the Michigan Court of Appeals. Last April, the Michigan Supreme Court granted the city of Wyomin's request to appeal.
Livonia passed an almost identical ban ordinance, and has filed a brief siding with Wyoming in the appeal. Bans have also been put in place in Birmingham, Bloomfield Hills and Lyon Township. Ter Beek said in 2012 that he sued because he feared he would be arrested if he grew or used medical marijuana.
"I've tried narcotic-based drugs like Vicodin and OxyContin, and nothing worked like medical marijuana," Ter Beek said in 2012. "I just couldn't sit by as our elected officials try to ignore the will of the people and take this option from me and thousands of others.
The Court of Appeals ruled that Wyoming's ban was preempted by Michigan's medical marijuana law. It also said local governments could not use the federal drug laws as grounds for ignoring state law.
"Congress can criminalize all uses of medical marijuana, (but) it cannot require the state to do the same," the Court of Appeals ruled.
A brief supporting Wyoming filed by the Prosecuting Attorneys Association of Michigan (these guys are your enemies; remember them) ignores that, claiming that Michigan's medical marijuana law "stands as an obstacle to the accomplishment and execution of the full purposes and objectives of Congress and is therefore preempted."
The State Bar of Michigan is just as bad; it's public corporation law claims in bold type: "The supremacy clause of the United States Constitution applies ... to void" Michigan's medical marijuana law "in its entirety."
The Michigan Municipal League is also an enemy of medical marijuana patients; the Lansing-based lobby group's brief says that Michigan municipalities should be free "to zone and regulate their own unique land use activities" to ban medical marijuana.
(Photo: Rod Sanford/Lansing State Journal)