Minnesota: Lawsuit Says Officers Gave Occupy Protesters Marijuana As An Experiment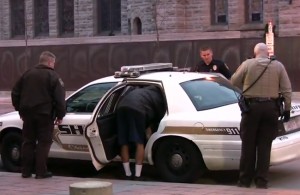 By Steve Elliott
Hemp News
Several videos taken in April 2012 of law enforcement officers interacting with Occupy Minnesota protesters at Peavey Plaza in Minneapolis have led to an officer being placed on leave, a state training program suspended, and now a federal lawsuit seeking more than $1 million.
Attorneys for Occupy Minnesota demonstrators who say police officers gave them marijuana to smoke as part of a Drug Recognition Evaluation (DRE) program squared off in a courtroom on Monday with lawyers for the counties and cities where the law enforcement personnel worked, reports Mark Albert at KSTP. None of the officers were charged, reported Laura Yuen atMinnesota Public Radio.
A motion to dismiss was argued by attorneys for 26 police officers in 18 agencies. The state has been dismissed from the lawsuit for now, even though the DRE was set up, run, and supervised by the Minnesota Department of Public Safety.
The counties' attorney, Jason Hively, told Magistrate Judge Franklin L. Noel during the 65-minute hearing that the 13-page complaint alleging constitutional violations of the First and Fourteenth Amendments should be dismissed because the participants volunteered and were not forced to take part.
"They all knew that they were using marijuana," Hively claimed. "There was no experiment here ... They knew exactly what they were getting into."
But Alan Milstein argued that his clients were used as "guinea pigs" in experiments for officers carrying badges and guns who -- under a training deadline -- "coerced" demonstrators to get in the back of squad cars, got them high on marijuana, and then released them.
Milstein claimed that violated the free speech rights of protesters, because all of them were taken from an Occupy Minnnesota demonstration in downtown Minneapolis.
The police "could have gone to a baseball game, a state park, a college campus" to find participants, Milstein said after court. "But they chose to target people who were exercising their First Amendment right."
Judge Noel took the motion under advisement and will issue a ruling later.
The DRE program itself was reinstated last month, supposedly with "widespread reforms," including contracting out officer training to the California Highway Patrol. But no training session has yet been scheduled in California.
(Photo showing police taking young protester away from downtown Minneapolis: Minnesota Public Radio)