Netherlands: Miley Cyrus Fires Up Joint Onstage At MTV Music Awards In Amsterdam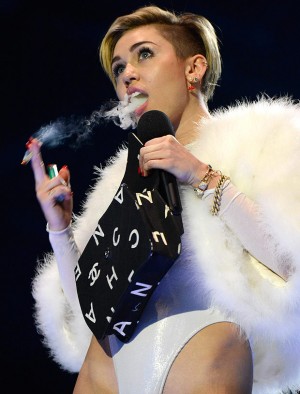 By Steve Elliott
Hemp News
Pop sensation Miley Cyrus fired up a joint onstage Sunday at the MTV European Music Awards in Amsterdam immediately after accepting the Best Music Video award for "Wrecking Ball," according to multiple press reports.
Cyrus pulled out a cannabis joint and had a quick smoke onstage, reports Nadeska Alexis at MTV News.
"I couldn't fit this award in my bag but I did find this, so thank you guys very much," she said as she pulled a joint out of her purse and lit it up, with fans cheering wildly, reports Randee Dawn at NBC News.
MTV censored the footage of Cyrus smoking weed when airing the EMAs in the United States, reports Nellie Andreeva at Deadline.
"We applaud MTV for taking responsible actions to eliminate the drug use from its U.S. broadcast, and we urge them to make that a uniform policy for all of its programming, said Parents Television Council President Tim Winter. Winter had slammed MTV for Cyrus's twerking at the Video Music Awards back in August.
Cyrus has been associated with cannabis use since her 19th birthday party in 2011, where she joked about being a stoner. "I think weed is the best drug on Earth," she said in a recent Rolling Stone interview.
Miley arrived in Amsterdam on Friday and spent much of the weekend hanging out at the Greenhouse Coffee Shop downtown with several other stars, reports the Associated Press.
She wore pot-leaf emblems in her earphones during her live performance of "Wrecking Ball" at the awards show on Sunday.
(Photo of Miley Cyrus firing up joint onstage at MTV European Music Awards: The Sun)