New York: Staten Island Traffic Sign Hacked To Read 'Smoke Weed Every Day'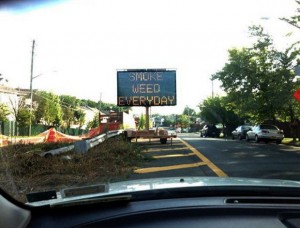 By Steve Elliott
Hemp News
A portable traffic sign in Staten Island, New York, invited motorists to "SMOKE WEED EVERYDAY" after someone apparently broke into the machine and changed its text.
That phrase apparently wasn't the only pro-marijuana sentiment to flash on the traffic sign last weekend, with at least one other passerby posting an Instagram picture of the sign reading something similar, reports Ryan Lavis at the Staten Island Advocate.
The text on the portable sign was soon restored to its original message, warning drivers of shifting traffic patterns.
The Department of Design and Construction is currently overseeing a large sewer project in the area, but responsibility for the sign itself falls on the contractor for the site, according to DDC spokesman Joseph Soldevere.
The contractor corrected the sign on Monday and put on new locks, Soldevere said. Construction on the project should end next summer, he added.
(Photo: Mike Tompkins/Staten Island Advocate)