United States: NORML Chapters Unite for a Good Cause, Participate in Race for the Cure
By Michael Bachara, Hemp News Correspondent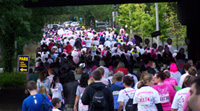 On September 18th, Oregon NORML entered a team for the second consecutive year into the Komen Race for the Cure. Their team name, NORML People.
NORML chapters in Virginia and Texas also participated in the race this year thanks in part to encouragement from the NORML Women's Alliance. Cheyanne Weldon, Secretary of Texas NORML reports that Texas NORML and Dallas Fort Worth NORML both had teams this year.
Stacy Thies from the Sister-to-Sister program, a new coalition between the NORML Women's Alliance and Students for Sensible Drug Policy, created educational cheering stations in both San Diego and Arizona.
"It's important for us to step out of our cannabis communities and participate in events like this. It helps remove the stereotypes that slow us down in this movement," said Diaz. "I am hopeful that even more NORML groups will join in next year."
You can still make a donation to the team online at http://race.komenoregon.org/goto/normlpeople or by mailing your check or money order made out to Susan G. Komen for the Cure to Oregon NORML, P O Box 16057, Portland, OR 97292 before October 24, 2011.


Video Source: http://www.kptv.com/story/15495983/20th-anniversary-of-race-for-the-cure...