Oregon: Local NORML Chapter Takes On Adopt-a Highway With Pride
"In Oregon it's NORML to care about your community."
By Michael Bachara, Hemp News Correspondent/Oregon NORML Adopt-a-Highway Coordinator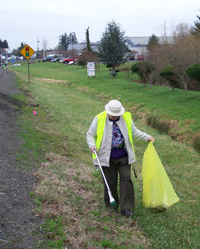 This past weekend, members of Oregon NORML (National Organization for the Reform of Marijuana Laws) and CRRH (Campaign for the Restoration and Regulation of Hemp) worked together to contribute to the Oregon Department of Transportation (ODOT) Adopt-a-Highway community outreach program.
The group has been tackling the 2.5 mile stretch of Oregon Highway 26 in Gresham, from the intersection at Burnside and Powell to Stone Road, for almost three years. In this time, the group of dedicated volunteers has picked up approximately one hundred bags of litter and removed it for proper disposal.
The state recognizes groups who participate in the Adopt-a-Highway cleanup program by giving them a sign with the group's name displayed marking their designated stretch of road. "Oregon NORML" graces two signs on Highway 26, and the group believes this is just another step in achieving a closer connection to their community.
"I love my community and participation in this type of clean up gives me a chance to give back, not only to the city of Gresham, but also to the thousands of people who travel this stretch of road on their way to and from Mt. Hood every day," explained one group member.
"Participation in the Adopt-a-Highway program gives us a great feeling of accomplishment," said one of the Oregon NORML community outreach team members. "We hope that this inspires others in our area to continue good work in their own neighborhoods by not only cleaning up streets, but changing attitudes and defeating stereotypes. We do this because we care about our state."