Oregon: Portland Hempstalk Festival Moves To Tom McCall Waterfront Park Sept. 27-28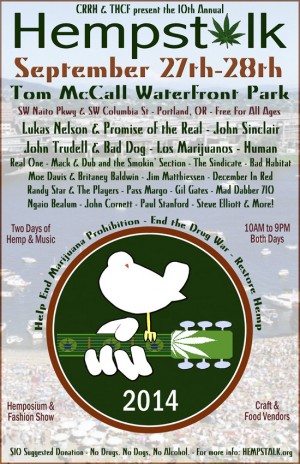 The 2014 Portland Hempstalk Festival occurs at Tom McCall Waterfront Park in downtown Portland, Oregon on September 27 and 28. Hempstalk provides educational awareness opportunities regarding the the medicinal, emotional and mental benefits of cannabis while advocating for its decriminalization for medicinal, industrial, and recreational use.
Founded in 2005 by The Hemp and Cannabis Foundation, the festival features live music, guest speakers, food and goods vendors and information booths. This public event has always been free to attend, with a suggested donation of $10 per person.
According to Paul Stanford, founder and presenting sponsor of the event, "Hempstalk is about the many uses of agricultural hemp fiber, oil, protein, fuel and medicine. We are working to end adult cannabis prohibition, allow adults to grow their own and license the legal sale of psychoactive cannabis to adults.
"We believe that hemp will save the Earth's biosphere with the adoption of hemp seed for bio-diesel fuel, which will solve the energy and world hunger problems, and stop deforestation when hemp fiber is used for paper and building materials," Stanford said. "We shall overcome!"
Event coordinators estimated that last year's two-day Hempstalk festival, held at Kelley Point Park, was attended by 60,000 people. With recent years increases in festival attendance, growing awareness of popularity of its cause, Hempstalk organizers and city officials felt it had outgrown its previous location.
Featuring two stages, the Jack Herer Main Stage, the newly added Green Goddess stage, and the Hempstalk Pavilion, the bands, music and informational guest speakers are sure to inspire and inform attendees. Already confirmed on the musical bill for 2014 are Lukas Nelson & Promise of the Real, John Trudell and Bad Dog, Herbivores, Los Marijuanos, Poet and Cannabis Advocate John Sinclair, The Sindicate, J Mack and Big Dub, Bad Habitat and more.
In addition to the musical acts featured, guest speaker panels will inform attendants about industrial hemp, the legal use of marijuana, and answer other questions attendees on the two stages and in the Hemposium. Hempstalk guest speakers for this year will include THCF and CRRH Director Paul Stanford, Hemp News Editor Steve Elliott, Renowned Author Chris Bennett, Parents 4 Pot's Anna Diaz, Attorney Bradley Steinman, and more. Hempstalk will be emceed by Ngaio Bealum.
In addition to the entertainment and educational opportunities, local food vendors plus arts and crafts exhibitors will be present at Portland Hempstalk.
This year's festival is a non-smoking event with the focus being on lifestyle diversity, alternative perspectives and freedom of speech concerns related to laws prohibiting the use of the cannabis plant. If you are a medical marijuana patient and you need to medicate, please do so before arrival to or after departure from the event.
Should the November ballot promoting legalization of cannabis, it will be for private personal usage. Consumption is not currently legal, and will not even if private usage is legalized, in public locations including Waterfront Park.
For more information please visit www.hempstalk.org.