Oregon: Portland Mayor Wants Hempstalk Festival at Waterfront Park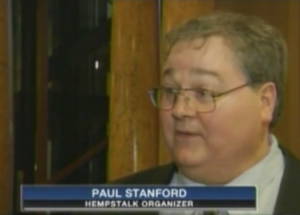 By Steve Elliott
Hemp News
The Portland City Council on Thursday told the city's Parks & Recreation Bureau, which denied Hempstalk Festival a permit for Tom McCall Waterfront Park, to negotiate with the festival's organizers in order to find a place and time for the event in the park. After more than two hours of testimony, during which the Mayor went to bat for the event, they left the door open for the pro-cannabis group to hold its 2014 gathering on the waterfront.
"It seems to me that the place it ought to take place is Waterfront Park -- if the event is manageable," said Mayor Charlie Hales, reports Andrew Theen at The Oregonian.
Thursday's hearing was the first time city parks officials could remember an appeal of a permit ruling going before the City Council. The Parks Bureau usually doesn't deny permits for events it has approved in previous years.
Hempstalk 2014 would be the 10th annual event, which has been held at several locations in the Portland area over the years, including at Waterfront Park in 2005 and 2006.
The '05 and '06 events, attended by about 10,000, were held in "the Bowl" area of Waterfront Park, organizer Paul Stanford (who owns Hemp News) told us. In 2007, the city moved the event to Sellwood Riverfront Park and drew about 20,000 attendees, and in 2008, it was moved to the Eastbank Festival Plaza (across the river from Waterfront Park), where, according to Stanford, the acoustics were terrible, making it very difficult to hear the speakers and bands.
In 2009, the event was moved to Kelley Point Park in North Portland, where it has been held ever since, attended each year by rough 40,000 to 50,000 people.
One thing that Hempstalk supporters, the Parks Bureau, and the City Council all agree on is that Kelley Point Park, where Hempstalk has been held for the past five years, is not a good place for a gathering of more than 50,000 people. That park is at the confluence of the Willamette and Columbia Rivers, with very limited public transit service.
"If we're going to have this kind of event where 50,000-plus people show up, then we want it on the transit system," Mayor Hales said. Hempstalk officials agreed that the secluded nature of Kelley Point Park has added to parking problems and crowd management issues.
City parks officials and police last week issued a 37-page staff report claiming the festival turned a blind eye to underage consumption of marijuana. Parks staff members claimed that as Hempstalk grew in popularity over the past nine years, organizers hadn't improve their crowd management abilities.
Hempstalk organizers and their attorney testified at the occasionally lively hearing that they want to work with the city to improve the event. "We are very interested in working together with the city to get this permit," said Bradley Steinman, Hempstalk's lawyer.
While Mayor Hales and Commissioners Steve Novick and Amanda Fritz were a sympathetic audience, they pressed Hempstalk organizers to make changes if they are approved for a 2014 festival.
Event organizer Paul Stanford, a backer of two expected November ballot measures (I-21 and I-22) to legalize recreational cannabis use in Oregon, pledged to allow searches of Hempstalk attendees' bags in the future. In response to pressure from Commissioner Amanda Fritz, Stanford also said the festival wouldn't allow on-site marijuana use.
I-21 and I-22, the two November ballot measures backed by Stanford, are the Oregon Cannabis Tac Act (OCTA 2014, an update of 2012's Measure 80) and the Oregon Cannabis Amendment. Both have until July 7 to gather enough signatures to qualify for November's ballot. ">Readers who'd like to volunteer to help with the cannabis legalization measures can sign up here.
Hempstalk supporters said the event is a peaceful protest, and was less damaging to city property than large waterfront events such as the Oregon Brewers Festival and the Waterfront Blues Festival.
Supporters additionally took issue with police characterizations of underage marijuana use at Hempstalk, arguing such behavior takes place at many large festivals and is difficult to stop. Stanford said the festival "certainly didn't condone" underage marijuana use, and pledged to do better in the future.
It's just not realistic to know who's a minor and who isn't at a large festival, said Hempstalk attendee and supporter Paul Armstrong. "You can't just line up everybody and search folks," he said.
Mayor Hales said it's important to try to make the city's most centrally located park available for free speech vents like Hempstalk. The Mayor instructed the Parks Bureau to work with festival organizers to find an alternative date for Hempstalk. He also asked the Parks Bureau to make an exception, in Hempstalk's case, to their typical rule of allowing just six large events each year at Waterfront Park.
"It's not guaranteed that you'll be able to satisfy" the city's concerns, Mayor Hales said, adding that Hempstalk is "expected to follow the rules."
Hempstalk's target date of September 5-7 is no longer available, with the Portland Dragon Boat Race now scheduled to take place that weekend. After the meeting, Stanford said Hempstalk supporters hope to get an alternative date for the festival within the next week.
Stanford said a "best possible outcome" is still possible if Hempstalk is able to get the main part of Waterfront Park for the festival, and praised Mayor Hales for his support.
Above, Portland Mayor Charlie Hales, center, meets with Hempstalk organizers on Thursday