Oregon: Still No Green Light For Hempstalk Festival With Just 3 Weeks To Go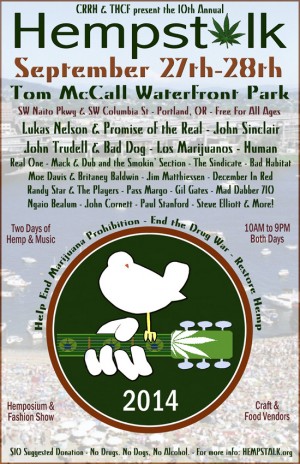 By Steve Elliott
Hemp News
Organizer Paul Stanford, who owns Hemp News and directs the Campaign for the Restoration and Regulation of Hemp (CRRH), still expects the two-day Hempstalk festival to occur in downtown Portland, but the free event is still waiting for a city permit, with just three weeks to go.
It's been eight months now since Portland Mayor Charlie Hales directed city staff to try and find a way to accommodate the festival, which advocates the legalization of marijuana and hemp for all uses, reports Andrew Theen at The Oregonian.
"It's outrageous," Stanford said on Friday from Spain, where he's speaking at an international cannabis festival. "They're yanking us around," he said of the city's handling of Hempstalk's permit.
Hempstalk Festival is marking its 10th anniversary this year, and Stanford has planned a downtown showcase for the event. Musical acts including Lukas Nelson (Willie's son) are slated to perform, and the event, scheduled for September 27 and 28, has been extensively promoted.
Portland city officials initially denied Stanford's application for an event permit back in December, claiming past Hempstalks at Kelley Point Park in Northy Portland have featured lax security and marijuana use.
But Stanford and fellow hemp supporters packed a city council meeting in January to protest the decision by the parks bureau. Mayor Hales said he considered the festival a free speech issue, and said if it happens, it should be held downtown.
Stanford submitted new paperwork in March, to do exactly that. But eight months later, parks bureau officials on Monday claimed they still couldn't definitively say whether Hempstalk's permit will be approved or denied.
According to officials, Portland's police and fire departments are "still reviewing" aspects of Hempstalk's security and crowd management plans.
Parks bureau spokesperson Mark Ross said in an email that Hempstalk would get the go-ahead if organizers "complete their preparations and plans to the City's satisfaction."
"This will be one of the most scrutinized permit applications in recent memory," Ross admitted in an interview.
Meanwhile, Stanford says Hempstalk organizers will do everything they can to avoid any issues and enforce the city's rules. City officials are requiring 40 security officers to patrol the park area, according to Stanford.
And that makes for a certain amount of irony in the cannabis-friendly city. "This will be the only place in the city of Portland where marijuana won't be consumed on those days," Stanford said.
Stanford insists the festival will go on without a hitch. Organizers have hired a new security vendor, according to Stanford, and bags will be checked as attendees enter the park. Medical marijuana patients will be allowed to carry their medicine, but cannot smoke it at the event.
Around 100 vendors with food and crafts are expected, according to Stanford; vendors must pay $600 for a booth and aren't allowed to sell cannabis products. The festival will occur in the same area as the Waterfront Blues Festival, both north and south of the Hawthorne Bridge.
With marijuana legalization on the Oregon ballot in November, the stakes are high, according to Stanford. "We want to make the best possible appearance to the public to encourage the passage of the initiative in November," he said.
Stanford said he is "99.99 percent sure" Portland will approve the permit. "If they don't, we're going to sue their pants off," he said.