Oregon: Two Marijuana Initiatives Hold Signature Turn-In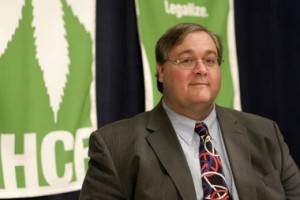 Cannabis advocates on Friday morning turned in tens of thousands signatures for two marijuana initiatives in the state capitol of Salem. The initiatives are aiming for the November 2014 ballot in Oregon.
Oregon's 2014 Initiative 21 is a constitutional amendment to end marijuana prohibition, and Initiative 22 is a statute to regulate and tax marijuana, allowing farmers to grow hemp for fuel, fiber and food. Organizers behind I-21 and I-22 turned in the signatures to the Oregon Secretary of State's Elections Division offices on the 5th floor in the Public Service Building.
"Prohibition doesn't work," said chief petitioner Paul Stanford of the Campaign for the Restoration and Regulation of Hemp (CRRH). "Filling our jails with nonviolent marijuana prisoners is a waste. It is time to end marijuana prohibition."
Recent polls show that more than 60 percent of likely Oregon voters support ending marijuana prohibition now. "Our initiatives, one constitutional, the other statutory, will poise Oregon to lead this new industry, which some say is the fastest growth industry in America today," Stanford said.
Who: Campaign for the Restoration and Regulation of Hemp, an Oregon nonprofit PAC
What: Press Conference and Signature Turn-In for Two Marijuana Initiatives
When: 10 a.m. on Friday, December 6
Where: Lobby of the Public Service Building at 255 Capitol St. NE; Salem, Oregon
With this submission, I-21 and I-22 move into the lead and have more signatures than any of the other initiative campaigns in the state.
"Our campaign has garnered unprecedented local public support, raising over $200,000, with more than 2,500 Oregonians contributing to our campaign in 2013 alone," Stanford said.
"Though The Huffington Post reports that marijuana is the fastest growing industry in America today, hemp for fuel, fiber and food will dwarf the marijuana market," Stanford said. "Our initiatives are designed to put Oregon ahead of both Washington and Colorado, so Oregon's economy can reap the benefits of these rapidly growing industries, sooner rather than later."