Pennsylvania: Racial Disparities Continue In Philadelphia Marijuana Arrests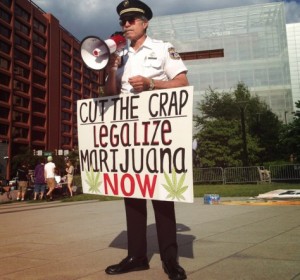 By Steve Elliott
Hemp News
The disturbing trend of racial disparities in marijuana arrests continued in 2012 in Philadelphia, according to an annual review of cannabis arrest statistics from Philly NORML.
The Philly affiliate of the National Organization for the Reform of Marijuana Laws, using data from the Pennsylvania Uniform Crime Reporting System, found that there were 6,614 marijuana-related arrests in Philadelphia during 2012. Of those, 4,272 were for simple possession only.
African-Americans were arrested for marijuana possession at five times the rate of whites in Philadelphia. All other drug arrests are more equal when compared by race, according to Philly NORML.
About 75 percent of the marijuana possession arrests were of people between the ages of 18 and 34. Ninety percent were male.
By comparison, whites and blacks were arrested in almost equal numbers for opiates and cocaine.
When looking at the state of Pennsylvania as a whole, of all adults arrested for simple marijuana possession, 85 percent were men and 71 percent were white. Of adults arrested for sales and/or manufacture of cannabis, 58 percent were white and 90 percent were male.
"Marijuana arrests in Philadelphia continue with a disturbing trend of racial disparity," said Chris Goldstein of Philly NORML. "Black and white Americans consume marijuana at nearly equal rates and the city's population is admirably diverse, yet it is residents of color who continue to be the focus of law enforcement."
Enforcement of marijuana laws also tends to target young people, according to Goldstein. Data shows that residents aged 25 to 29 were arrested the most, and those 65 and older were arrested the least.
Philadelphia has the harshest ordinance of any city in Pennsylvania: Mandatory custodial arrest (handcuffs and a holding cell) for any amount of cannabis. Other counties in the state treat marijuana possession as a summary offense, meaning a ticket can be issued and the offender then sent on their way with a possible date in court.
Putting more than 4,000 Philadelphians into jell cells for small amounts of cannabis costs the city more than $2.5 million each year, according to Philly NORML.
"The arrest statistics plainly indicate a pattern of targeted rather than equal enforcement, an issue that should be addressed immediately for the safety of the entire community," Goldstein said. "The Philadelphia City Council should investigate, in public hearings, the implications and costs associated with marijuana prohibition and enforcement."
"We urge our community and our elected officials to take any action feasible to immediately end criminal cannabis prohibition, stopping all of the arrests," Goldstein said.
PHILADELPHIA
18F Marijuana possession: 3,709 adults and 563 juveniles for 4, 272 total arrests in year 2012
Of the adults arrested in 2012 for marijuana possession: 3,052 black, 629 white; 90% male
337 women were arrested in Philadelphia for marijuana possession in 2012; 267 black, 69 white
Comparison: 18E Drug possession Opium and Cocaine combined: 4,256 adults arrested in 2012 with 2,155 black and 2,074 white, 70% male
18B Sale/manufacture marijuana: 2,184 adults and 158 juveniles for 2,342 total arrests in 2012
Of the adults arrested for marijuana sales/manufacture in 2012: 1,670 black, 490 white; 90% male
PENNSYLVANIA STATE-WIDE
18F Marijuana possession: 17, 666 adults and 2,911 juveniles for a total of 20, 577 arrests in 2012
Of the adults arrested state-wide in PA for simple marijuana possession 85% were men and 71% were white
18B Sale/manufacture marijuana: 5,281 adults and 447 juveniles for a total of 5,728 arrests in 2012
Of the adults arrested for marijuana sales/manufacture state-wide 58% were white and 90% were men.
(Photo of retired Philadelphia Police Captain Ray "Occupy" Lewis: Diane Fornbacher/Ladybud)