U.K.: Protesters Plan To Openly Smoke Marijuana In Public Park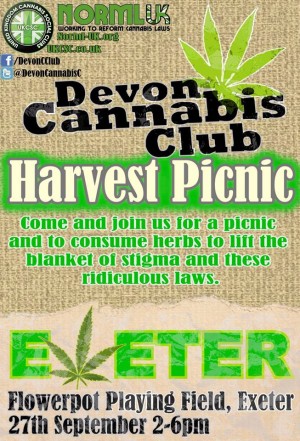 By Steve Elliott
Hemp News
Cannabis advocates in the United Kingdom plan to openly smoke marijuana during a protest picnic in Exeter later month.
The Devon Cannabis Club plans its annual Harvest Picnic at Flowerpot Playing Fields in Exeter on Saturday, September 27, between 2 p.m. and 6 p.m., reports the Exeter Express & Echo.
Last year's protest in Exeter was attended by about 60 activists.
This year's event is being promoted on Facebook, where the page states, "Come and join us for a picnic and to consume herb to lift the blanket of stigma and these ridiculous laws." So far, 92 people have indicated on the Facebook event page that they will be attending.
"Our aim is to raise awareness of the benefits of cannabis and to address the bias and misinformation so often seen in the mainstream media," said Daryl Sullivan, South West regional admin for The United Kingdom Cannabis Social Clubs. "To this end we have, for the past two years, been holding public 'protest picnics' around the country."
"These are gatherings where people get together and openly smoke cannabis to prove that it can be done sensibly and without harm to anyone, and to show the absurdity of its illegal status," Sullivan said. "We also provide leaflets and information regarding cannabis, the harms of prohibition and why we believe a legal, regulated system would take away many of the problems we see now.
"The protests have been quite successful at pushing this issue into the public eye," Sullivan said.
Last year, with around 60 protesters toking up in public at Flowerpot Fields, there were no arrests, despite a strong police presence. Police said that while anyone smoking cannabis would be breaking the law, they recognized the right to peaceful protest.