Uruguay: Aerosmith Praises President's Marijuana Legalization Efforts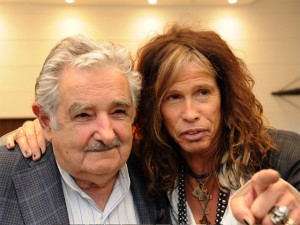 By Steve Elliott
Hemp News
Hard-rock legends Aerosmith, in Uruguay for a concert Wednesday night, praised President José Mujica during an official visit Tuesday afternoon. Singer Steven Tyler called Mujica "one of the best presidents in the Americas," adding that more presidents should be like him. Tyler expressed admiration for Mujica's work on marijuana legalization and helping the poor.
Uruguay is on track to become the first nation in the world to fully legalize cannabis since the Single Convention Treaty on Narcotics established worldwide marijuana prohibition in 1961.
"Your president is a freedom fighter and in many ways we fight for freedom ourselves with music," Tyler said, reports Edgar Zúñiga of NBC Latino.
"He gives 70 percent of his salary for people's homes," Tyler said. "Here in this small country, Uruguay, I think he's doing it the right way, grass roots and we believe in that."
A former leftist guerrilla, President Mujica is widely considered "the world's poorest president," and donates most of his pay to a program which provides free homes to the country's poor, mostly households headed by single mothers. The program also provides medical care. Mujica has already given more than $300,000 to the program, according to Joaquín Constanzo with Uruguay's presidential press office.
The visit between Aerosmith and Mujica was arranged following a request by the rock band to the Executive Tower, Uruguay's presidential office. The band visited with the president for more than two hours in public and private events, lingering long enough to watch the Montevideo sunset, according to Constanzo.
At the end of the visit, Aerosmith gave President Mujica a signed guitar.
(Photo of President José Mujica and Steven Tyler: Secretariat of Communication for the Presidency of Uruguay)