Uruguay: Sting and Richard Branson Accused of Using Nation as 'Laboratory' For Legalization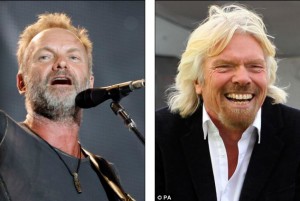 By Steve Elliott
Hemp News
Sting and Sir Richard Branson have been accused of using Uruguay as a "laboratory" for marijuana legalization after backing a campaign to regulate cannabis in the South American nation.
Uruguay looks to be a sure bet to become the first nation in the world the fully legalize marijuana, reports Tom Gardner at the Daily Mail. The changes were set into motion after a campaign by the Drug Policy Alliance (DPA), for which Sting and Branson are honorary international board members.
The involvement of the America-based drug law reform organization is being branded "meddling" by the Uruguayan opposition to cannabis legalization, who are attempting to inculcate a backlash against the planned changes.
Gerardo Amarilla of the opposition National Party accused the two celebrities of risking the health of Uruguayans with their "meddling," and turning the entire country into a "laboratory" for reform. "They should be meddling in Uruguay," Amarilla said.
"They should be lobbying in their own country because they're not going to suffer the consequences here, the security and health problems," Amarilla said, ignoring the fact that both men actually do lobby in their own country for drug reform.
Amarilla claimed the Uruguayan government is "playing with fire" given the supposed "health risks" of marijuana. He said most Uruguayans were against legalization.
He claimed the government is underestimating the risk of marijuana, which he called a "gateway drug" for other addictions that foster violent crimes. (The "gateway theory" has long been debunked by science; for example, see this article in Opposing Views.)
"Ninety-eight percent of those who are today destroying themselves with base cocaine began with marijuana," Amarilla claimed.
"While I am a member of the Drug Policy Alliance International Honorary Board (In Formation), I am an active member of the Global Commission on Drug Policy," Branson responded. "For the past few years we have examined the war on drugs using a science-based approach.
"We feel strongly that it has failed and that there needs to be a different approach," Branson said. "We believe drugs should be treated as a health problem, not a criminal problem. This is a global problem, not a national issue, and everyone who can should speak out to help change the failed war on drugs."
Buyers in Uruguay would have be over 18 years old, and would be able to grow up to six plants at home or buy up to 40 grams (1.4 ounces) a month in government-licensed pharmacies. The government would be the only entity allowed to sell cannabis.
In an effort to stop foreign drug tourists from flocking to Uruguay to smoke marijuana, the legislation would restrict legal purchases to Uruguayans.
(Photos: Daily Mail)