Vermont: New Hampshire Marijuana Legalization Vote Could Prompt Rest of New England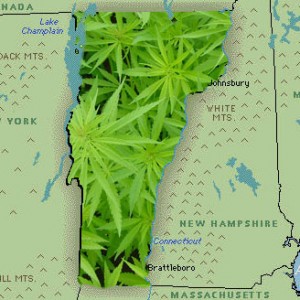 By Steve Elliott
Hemp News
Does the domino theory apply here? Political observers believe that last week's marijuana legalization vote in the New Hampshire House of Representatives could help prompt states across New England to adopt more liberal cannabis policies.
The legalization bill in the New Hampshire Legislature enjoys popular support, reports Watchdog.org. "Polls show 60 percent of voters in the state support, and we won't rest until that includes a majority of their state legislators," said legislative analyst Matt Simon of the Marijuana Policy Project (MPP) last week.
If the bill makes it out of committee and through a final vote and is then signed by Gov. Maggie Hassan (who hasn't sounded very encouraging so far), it would make New Hampshire the first state in New England to legalize, joining the 420-friendly town of Portland, Maine. Portland voted as a city on Election Day 2013 to legalize marijuana.
"The legalization of marijuana is moving fast in parts of the United States, and it looks as though the domino effect could quickly move to other states such as Vermont," said former Rhode Island U.S. Rep. Patrick Kennedy, who heads an anti-cannabis group called Project Smart Approaches to Marijuana (Project SAM), supposedly "dedicated to a health-first approach to marijuana policy" but in reality dedicated to the promulgation of Reefer Madness disinformation.
If Kennedy, now an infamous anti-weed crusader, is right, then the domino theory points to Vermont as the next likely state to legalize marijuana and embrace a different approach to cannabis regulation.
Vermont already decriminalized pot last July. A bill to completely legalize the sale and possession of weed by adults is expected on this legislative session's agenda in state capitol Montpelier.