Washington: Cannabis Activist Group Going After Governor On Medical Marijuana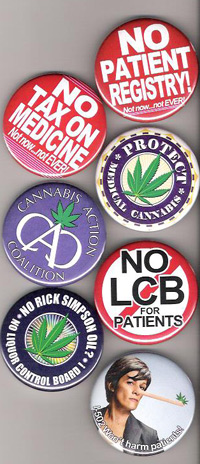 By Steve Elliott
Hemp News
A Seattle-based medical marijuana patient advocacy group, the Cannabis Action Coalition, has filed a recall petition against Governor Jay Inslee with state Attorney General Bob Ferguson's office.
The petition alleges corruption related to the Washington State Liquor Control Board's implementation of cannabis legalization Initiative 502.
"It's pretty clear that no matter which party prevails, the losing party will file an expedited appeal with the Washington State Supreme Court, said activist Steve Sarich, who heads up the CAC. "The best information we have is that this could happen within 10 days of the Superior Court decision."
Sarich was a guest on Tuesday's "Mike Bastinelli Show." Sarich talked about the flaws in I-502 that will affect medical marijuana patients in Washington, and the group's allegations against Gov. Inslee.
Sarich ran the No On I-502 campaign. He opposed the measure because of its per se DUI level of 5 nanograms of THC of milliliter of blood (5 ng/mg), which is not a true level of impairment; because it didn't remove any of the laws that made marijuana illegal in the first place (in fact, it added several new ways you can be arrested for cannabis); and because it will result in the over-taxation of medical marijuana, because of claims that the MMJ community is cutting into the revenue stream of proposed recreational marijuana outlets.
To hear the broadcast of the interview with Steve Sarich, click here.
See the 420 Leaks website for more information on the recall petition.