Texas: Cowboys' Owner Jerry Jones Wants NFL To Drop Its Marijuana Ban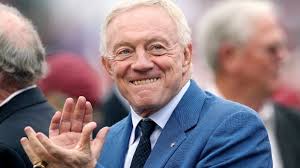 By Derrick Stanley
Hemp News
Jerry Jones spoke up at the Annual League Meeting for NFL team owners last week, telling the group that he wants the NFL to "drop its prohibition on marijuana use."
His fellow owners reminded him that a change won't be coming anytime soon because it's something that would have to be collectively bargained.
Jones is certainly not alone in the NFL in questioning the league's ban on marijuana use. Former Cowboys cornerback Brandon Carr said in an interview for Sportsday a few months ago that he compared it to alcohol.
"I see guys that partake in marijuana are calmer, cooler than guys that drink", Carr said. "I haven't really seen too many people get in jams or binds with their emotions or losing their cool off of marijuana."
Several other retired NFL players, such as former Chicago Bears quarterback Jim McMahon, have spoken out in recent months encouraging the NFL to consider new information available, and to drop its ban on medical marijuana. Some players feel that using medical marijuana is safer than using prescription painkillers, which can be addictive.
The NFL told Pro Football Talk it is "willing to listen to the medical community" regarding the use of marijuana.