Colorado: Marijuana Dispensary Seeks Naming Rights For Mile High Stadium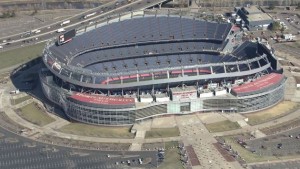 By Derrick Stanley
Hemp News
The stadium the Broncos play in is possibly about to be renamed due to the recent bankruptcy filing by Sports Authority, and one potential buyer is a marijuana company.
Native Roots, one of Colorado's largest dispensaries, expanded last year from one store to 14. The chain acknowledged the announcement being made on April Fool's Day was untimely, but insist they are serious about making a multi-million dollar commitment.
"It's not a joke, we're very serious," said Rhett Jordan, a founding partner of Native Roots.
The company has released a possible logo for the stadium, a simple tree with roots instead of a marijuana leaf.
If the naming rights are approved, the new stadium name would be Native Roots Fields at Mile High.
"We've always been huge fans of the Broncos, we felt like this was a great opportunity to bring two brilliant brands together," said Jordan. "Native Roots was born and raised in Colorado and we are the natural candidate for this. I don't see cannabis going anywhere but up right now so we are prepared for that."
Photo courtesy CBS