Oregon: $9M Illegal Marijuana Grow Raided Near Willamette River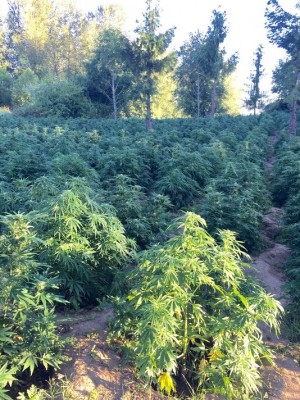 By Derrick Stanley
Hemp News
A massive marijuana grow in Oregon was raided early Tuesday morning, resulting in one arrest and the seizure of more than 6,500 plants.
The grow operation was found in rural Dayton after a two-month long investigation by the Yamhill County Interagency Narcotics Team, according to the Yamhiil County Sheriff's Office. Found in the wetlands of the Willamette River, the operation was connected to a Mexican drug trafficking organization.
The team raided the operation before sunrise with the help of the Oregon State Police SWAT. The thousands of plants were valued at more than $9 million.
Official found Manuel Madrigal, 42, hiding in a secret living area with a kitchen under a tarp. Madrigal,a resident of San Antonio, Texas with a history of drug arrests, was detained by deputies. He was arrested on federal charges of drug trafficking and turned over to U.S. Marshal custody in Portland.
Yamhill County Sheriff Tim Svenson said the raid was a good example of the dangers Oregon faces from marijuana, even though it is now legal in certain quantities.
"There is still a profit to be made in marijuana by these illegal organizations," Svenson said. "As long as this continues, we will need to remain diligent in our investigations to keep this money from being routed to other areas of criminal activity."
The grow was the first-large scale drug trafficking organization operation seen in Yamhill County in several years.
"Historically, these grows have been located on public lands in the mountains of western Yamhill County, and were difficult to access due to steep, dangerous terrain," a sheriff's official said in a statement. "This shows a shift in tactics by the drug trafficking organizations."
The sheriff's office said the investigation remains ongoing.
Photo Yamhill County Sheriff's Office