Alaska: TV Reporter Outs Herself As Pro-Marijuana Activist: 'Fuck It, I Quit'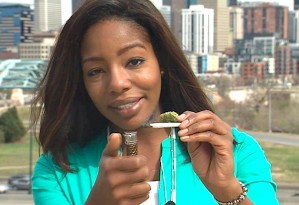 By Steve Elliott
Hemp News
If you're a television news reporter and you decide to quit, you might as well do it live on the air and in a spectacular fashion -- at least, that was apparently the thinking of Charlo Greene, who outed herself as the owner of a medical marijuana club and told viewers she was quitting her job to focus on legalization.
Greene reported on the Alaska Cannabis Club during TV station KTVA's Sunday night news broadcast, but didn't reveal her connection to the club until a live shot at the end of her report, according Laurel Andrews at the Alaska Dispatch News.
"Now everything you've heard is why I, the actual owner of the Alaska Cannabis Club, will be dedicating all of my energy toward fighting for freedom and fairness, which begins with legalization of marijuana here in Alaska," Greene said live on the air. "And as for this job, well, not that I have a choice, but fuck it, I quit."
With that, Greene walked off camera.
Alaska Cannabis Club had earlier urged its Facebook followers to tune in to the news broadcast Sunday evening. Greene later said KTVA had no idea she was going to quit, or how, or that she was connected to the dispensary.
Greene said she quit so dramatically "Because I wanted to draw attention to this issue. And the issue is medical marijuana.
"Ballot Measure 2 is a way to make medical marijuana real," she said. "Most patients didn't know the state didn't set up a framework to get patients their medicine."
"If I offended anyone, I apologize, but I'm not sorry for the choice that I made," Greene said.
KTVA News Director Bert Rudman apologized in a statement posted on the station's Facebook page Sunday night. "We sincerely apologize for the inappropriate language used by a KTVA reporter during her live presentation on the air tonight," Rudman wrote. "The employee has been terminated."
The Alaska Cannabis Club, founded in April, connects medical marijuana cardholders with other patients who are growing cannabis. Growers are offered "donations" as reimbursement for the expenses of cultivating marijuana. The club said it hopes to increase safe access by patients to medical marijuana, despite operating in a legal gray area in Alaska's hazy medical marijuana law.
Alaska voters on November 4 will decide whether to legalize recreational marijuana in the state, as Colorado and Washington have already done.
Photo: Charlo Greene (Facebook)