Oregon: Portland Hempstalk Festival Already Denied Permit For 2015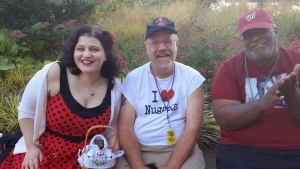 By Steve Elliott
Hemp News
When this reporter attended September's Hempstalk Festival in Portland, I saw a well-organized, orderly event, where plenty of information about the cannabis hemp plant and its many uses was disseminated by activists and speakers, along with bands, vendors, and bounteous opportunities for people-watching. What I did not see -- and I attended the entire two-day festival -- was people smoking or selling weed inside the event.
Portland parks officials, who seemed to have attended an entirely different event, waited only a day after Oregon's historic vote to legalize marijuana under Measure 91 to mail a letter to Hempstalk organizer Paul Stanford, reports Andrew Theen at The Oregonian.. It wasn't a nice congratulatory note, either -- it was a firm denial of his request to hold next year's Hempstalk Festival at Portland's Tom McCall Waterfront Park, or any other public property, next year.
"The passage of ballot measure 91 makes no difference in the City's decision," reads a prissy statement from Parks Bureau customer service center manager Shawn Rogers. The denial "stems only from the inability of organizers to manage the event in accordance with the necessary conditions clearly outlined and revisited on multiple occasions."
City officials claim attendees smoked marijuana at the event -- but again, I was there the entire time, and I never saw a single joint torched, even backstage.
City officials further claim that Hempstalk organizers were "unable or unwilling to intervene," but Stanford, organizer and Campaign for the Restoration and Regulation of Hemp director, told me that when parks officials told him they'd seen someone selling marijuana inside the event, he told them to throw the guy out immediately.
"While they did throw out the person in question, now they are trying to claim that we were somehow associated with him -- and frankly, I believe the guy was a plant," Stanford told Hemp News Tuesday afternoon.
Rogers' letter claims that parks officials saw "a significant number of individuals smoking marijuana in and around the event," despite bag checks at the gate and strict No Smoking rules.
"I actually felt like I was at risk of getting high," Rogers ridiculously whined of his visit to the festival. "It was pretty intense."
The denial of a 2015 permit is the latest development in a saga that includes rejection of the 2014 event, an unprecedented appeal, a Portland City Council debate about the decision, and a torturous permitting process that only ended days before the two-day event in September.
Stanford had described Waterfront Park as "the only place" in Portland where marijuana wouldn't be consumed during Hempstalk -- a wry and apt summation of the absurdity of telling folks, anywhere in Portland, that "you can't use cannabis here." But undercover officers sent into the event by the city claim they saw vendors selling marijuana products (I saw nothing of this) and organizers telling attendees where to smoke pot (I heard nothing of this).
"We intend to seek a writ of review," said lawyer Ann Witte, representing Hempstalk. "Asking the court to stop the city council review until our case is heard in court." She called the city's denial of Hempstalk's 2015 permit and its reference to Measure 91 "ridiculous."
Stanford, meanwhile, remains undeterred and unapologetic.
"This is all about the police and the prohibitionist reactionaries, who are attacking us for any reason they can find," he said. "We will prevail; we will win; we will never surrender."
Photo of Julia Rose, Steve Elliott, and Jerry Haskins at Hempstalk 2014: Paul Stanford