Texas: Houston Police Chief Says Marijuana Prohibition Has Failed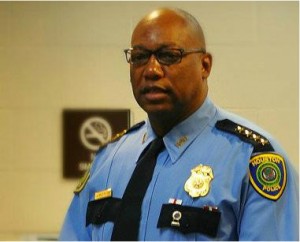 Chief Charles McClelland Says Feds Should Take the Lead; Interview with LEAP Speaker and Radio Show Host Dean Becker To Air This Friday
In an interview with "Cultural Baggage," a radio show hosted by Law Enforcement Against Prohibition (LEAP) speaker and former Air Force Security Policeman Dean Becker, Houston Police Chief Charles McClelland said marijuana prohibition is a failed public policy.
During the interview, Chief McClelland highlighted pilot programs within his department and others in the state to reduce marijuana possession penalties for first-time offenders. He also discussed the necessary role of the federal government in changing national drug laws.
Because many state-legal marijuana businesses cannot safely use banks and because illegal markets still exist in most states, those markets can still flourish by undercutting the dispensaries, according to the Chief. McClelland also acknowledged the racism inherent in drug enforcement practices which results in the incarceration of a disproportionate number of young black men.
The 30-minute interview covering a variety of law enforcement issues including the rights of protestors, the immense power of drug cartels and why so many Americans use substances will air this Friday, at 4:30 pm CT, on KPFT 90.1 FM in Houston and streaming online.
"It's not uncommon to hear these sorts of comments from police on the street," said Maj. Neill Franklin (Ret.), executive director of LEAP, a group of law enforcement officers opposed to the War On Drugs. "What is less common is to see a top administrator choose to speak out about what's right despite major financial incentives - in the form of federal grants and asset forfeiture proceeds - to protect the status quo.
"I salute Chief McClelland for standing up for social justice," Franklin said. "He exemplifies the best of American policing today."
Photo of Houston Police Chief Charles McClelland: Houston Style Magazine