North America: Shoe's On The Other Foot - US Weed Now Being Smuggled Into Mexico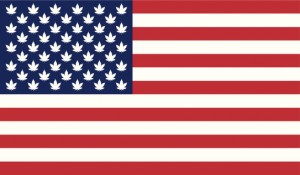 By Steve Elliott
Hemp News
An an interesting case of role reversal, marijuana grown in the United States is increasingly being smuggled into Mexico, according to the DEA.
At one time, Mexico supplied the vast majority of cannabis found in the U.S., but that has changed due to more weed being cultivated north of the border. The high quality of American weed is catching the attention of Mexico drug cartels, reports RT.com.
American marijuana, typically with potency between 10 and 25 percent THC, is, on the average, noticeably stronger than Mexican weed, which averages 3 to 8 percent. American weed, meanwhile, typically sells for three to four times as much as Mexican product.
"I believe that now, because of the changes they're having to make because of marijuana legalization in the U.S., the cartel is pushing more cocaine, meth and heroin. They're diversifying," journalist Javier Valdez told NPR.
"It makes sense," said Drug Enforcement Administration spokesman Lawrence Payne, reports National Public Radio. "We know the cartels are already smuggling cash into Mexico. If you can buy some really high-quality weed here, why not smuggle it south, too, and sell it at a premium?"
"Mexican marijuana is considered to be of poor quality generally because it's grown in bulk, outdoors; it's typically dried but not really cured, which is something we do here in the U.S. with connoisseur-quality cannabis," Payne told NPR. "And it's also bricked up, meaning that it's compressed, for sale and packaging and in order to get it over the border efficiently."
Payne could not provide specific numbers or point to any recent prosecutions, leaving the scale of this reverse-smuggling unknown.
According to some observers, other forces are at work in the reverse smuggling trend. "Weak dollar, strong peso," marijuana market analyst Steve Wessing of Portland, Oregon, told Hemp News. "It's not just about the marijuana."
"It's certainly interesting if it is actually the case, but we should probably wait until there is confirmation that it's even happening before we jump to conclusions," said Mason Tvert of the Marijuana Policy Project (MPP). "Unfortunately, the DEA doesn't have a great track record when it comes to providing objective information about marijuana."
Graphic: Thinkstock