New York: Mayor, Police Commissioner Giving Mixed Signals On Marijuana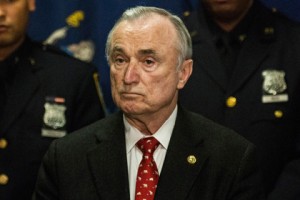 By Steve Elliott
Hemp News
When Mayor Bill de Blasio took office in New York City, one of his leading initiatives was responding to possession of small amounts of marijuana with summonses rather than arrests. At the news conference announcing the change -- which affected possession cases involving up to 25 grams of weed -- NYPD Commissioner William J. Bratton stood beside the mayor, holding up a bag of oregano measuring 25 grams, as an educational prop for how much pot is allowable.
Last week, this time without the mayor, Commissioner Bratton turned his attention once again to marijuana, report J. David Goodman and Matt Flegenheimer at the New York Times. Bratton announced homicides were up to 54 through March 1, compared with 45 over the same period last year, as were shootings -- and he claimed marijuana was a factor in the violence.
"The seemingly innocent drug that's being legalized around the country -- in this city, people are killing each other over marijuana," Bratton dramatically announced.
But does the commissioner's sharp turn towards reefer madness territory indicate a schism in the de Blasio administration's approach to cannabis? The mayor said he supports the new policy regarding low-level marijuana possession, voicing concerns that arrests for small amounts of pot disproportionately affect the black and Hispanic communities.
Arrests for misdemeanor marijuana possession were already falling with Mayor de Blasio took office. But since the new policy took effect November 19, arrests have plummeted.
Through Sunday, 1,956 people were arrested for misdemeanor marijuana possession so far in 2015, down from 5,157 for the same period last year, according to the NYPD. Summonses for marijuana have not increased as might be expected, dropping slightly to 2,059 from 2,162 over the same period in 2014.
Bratton, 67, noted in his memoir that he "disliked everything" about the 1960s, lambasting "hippiedom, Woodstock, the drug culture, the style of dress," and fellow soldiers who "wore bears, smoked marijuana and listened to antiwar rock and roll" while he was serving in Vietnam.
Mayor deBlasio, 53, has in contrast appeared to deal with marijuana with more of a wink and nod approach. He told reporters in January that he'd last smoked pot while a student at New York University in the early 1980s. The next day, an image was posted to the mayor's Twitter account: "my N.Y.U. days," the message read, beside a photo of a bushy-haired de Blasio, with a vacant stare and a partially unbuttoned shirt.
"We just see marijuana everywhere when we make these arrests, when we get these guns off the street," Bratton said at the news conference. Marijuana, he said, is "an influence in almost everything we do here."
Bratton's claims about marijuana and violence drew immediate skepticism. Some legalization advocates took his descriptions of black market turf wars as an indirect endorsement of their own effort to bring marijuana into the mainstream. If it were legal, they argued, gangs and turf wars would no longer be a part of the equation.
Photo of William J. Bratton: New York Post