U.S.: President Obama Says Pressure Will Increase To Change Marijuana Laws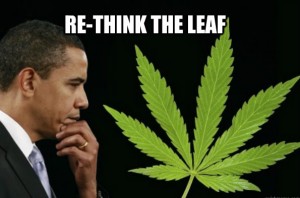 President Obama has said that as more states move away from the criminalization of marijuana, pressure will increase on Congress to change federal pot laws.
"We may be able to make some progress on the decriminalization side," Obama said. "At a certain point, if enough states end up decriminalizing, then Congress may then reschedule marijuana."
The comments come from an interview the President taped last week with VICE's Shane Smith. The video is at https://news.vice.com/video/president-barack-obama-speaks-with-vice-news .
Even with the positive prediction about the future of federal policy, the President also seemed taken aback by Smith saying that marijuana was the #1 most suggested topic from VICE readers and that if Obama led the way toward legalization, it would be the biggest part of his legacy for young people.
"It shouldn't be young people's biggest priority," Obama said. "Let's put it in perspective. Young people, I understand this is important to you, but you should be thinking about climate change, the economy, jobs, war and peace. Maybe way at the bottom you should be thinking about marijuana."
"The President is right that as voters force more and more changes to state marijuana laws, national policymakers will have no choice but to catch up," Tom Angell, chairman of Marijuana Majority, told Hemp News Monday afternoon. "But he should think again about how important this issue is.
"On average, there's a marijuana possession arrest in the U.S. about every minute," Angell said. "Billions of dollars are wasted on enforcing prohibition laws that don't stop anyone from using marijuana but do ruin people's lives with damaging criminal records. And the black market is controlled by drug cartels and gangs that use violence to protect their profits.
"This is a serious issue, and the President needs to treat it as such," Angell said. "In fact, his administration can reschedule marijuana without any further Congressional action needed. He should do that."