Oregon: Dr. Phil Leveque, WW II Hero and Pot Doc, Has Died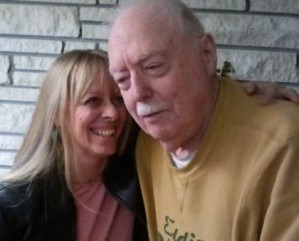 Doc Leveque was the greatest part of the Greatest Generation
By BONNIE KING, Salem-News
Special to Hemp News
It is with great sadness that I share this news. Our doctor, friend, teacher, and mentor 92-year old Phil Leveque passed away Saturday afternoon, peacefully with his family aside him.
His great niece described him as "The Most Awesome, Intelligent, Funny, Open-minded, Game Changing, Great Uncle, Dr. Phil Leveque", and that about covers it. He did change the game.
Many of you will know that he had been suffering from the effects of cancer, and ongoing pain from a broken hip and leg that were repaired well over a year ago. His passing was not unexpected as he has been unwell for a number of months, and the effects of cancer took its final toll.
Though difficult, it is a great relief to all that love him that he is finally free of pain. He was preceded in death by his wife Eve in 2004 and daughter Rochelle in 2007.
Phil Leveque was a soldier to the end. As a young man, he served as a combat infantryman in World War Two, a forward scout.
"I walked most of the way under fire from Luxembourg almost to Dresden. Under fire on a daily basis. I spent more time on the point than anybody else in my battalion and more time on the observation post than anybody except my own six guys. I don't have any idea how I got out of that alive," he said.
After insistence from his wife, Eve, Dr. Leveque began writing about his experiences of war about 20 years after the fact, when PTSD was apparent as a factor in his life. They had a family of five children, and the kids had questions of their own.
In his memoir*, "Gen. Patton's Dogface Soldier" he expresses what couldn't be spoken about. It helped him move through the nightmares, and he began speaking to groups and helping others. He dealt with PTSD for almost 70 years, so he could relate.
He told the story many times about a call he got from high-ranking Catholic priest. The priest told him, "Somebody just gave me your book. I'm a combat infantryman myself. And you got it right."
He was a Doctor of Osteopathy with a PhD in Pharmacology and Toxicology, and spent a great amount of his career as a professor at the medical-school level, moving the entire Leveque clan to "the far reaches of the earth". One adventure after another.
Phil Leveque did not ever let any grass grow under his feet. If he wasn't working on something, he wasn't awake. He was the quintessential "good doctor", helping, healing and saving innumerable fellow human beings as a rule.
He had a great sense of humor and he loved to dance wherever music was playing, but he had his serious side. Dr. Leveque was a private individual. The brilliant doctor was a consummate scientist. He researched and studied with intensity every subject that he took on, and he studied Cannabis/Marijuana for over 50 years.
He was brave. He never minded being the spokesman for the causes he believed in. Cannabis/Marijuana became one of those causes.
He became a prominent supporter of Oregon's 1998 medical marijuana initiative, helping legalize the use of marijuana as medicine. He fought for patients' rights his entire career, and it was that very battle that stole his career from him. He never gave up though, and he "never let the bastards get him down."
I was blessed to have him come into my life in 2003, first as a doctor and then as a business associate, and friend. He began writing for Salem-News.com in 2007, and he soon became an integral part of our family.
We enjoyed many memorable days with Doc; reading aloud at his direction, singing along to his favorite French songs, and succumbing to his infectious passion for life with his boisterous laugh as the soundtrack. We traveled up the Snake River on a jet boat with him, walked through WWII Battery Russel at Fort Stevens, and appeared at many a court hearing on behalf of citizens he believed in.
He is still the "Pot Doc" to thousands of patients who know and love him, including over a thousand Veterans. Always, he would lay down his life for any of them, and any of us. He gave his all.
Dr. Phillip E. Leveque, the war is over. You have won.
Rest in Peace, dear friend. You will be greatly missed.
Phillip Edwin Leveque
February 22, 1923
to May 2, 2015
~Rest in Peace~
Plan/date for the Celebration of Life is yet to be determined.
*The book is presently being re-edited and the profits from future sales will be donated to Wounded Warriors, to help those suffering from PTSD (Post Traumatic Stress Disorder), as he directed.
Also read: "Dr. Phil Leveque: The Coolest 90-Year-Old on Planet Earth" [2013]
Photo: Bonnie King and Dr. Phil Leveque on his birthday in 2014, courtesy Salem-News.com