U.S.: New Stoner Web Series "Cinedopes" Re-Launches Tuesday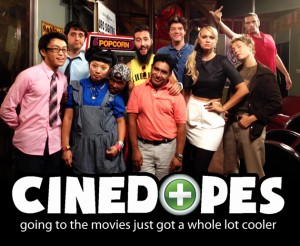 Attention Comedy Fans! "Cindeopes" is an irreverent comedy that follows the hilarious struggles of Tim, a dime bag weed dealer/failed filmmaker who inherits a movie theater run by an eclectic mix of morons and deviants, and it re-launches on Tuesday, July 14.
Tim, played by "Cinedopes" creator/writer Brian Drolet (MTVs Disaster Date and The Hills), partners with his life-long buddy and neurotic, aspiring lawyer, Blake, played by Writer/Co-Executive Producer Ben Gleib (GSNs Idiotest, The Book of Life, Chelsea Lately).
Tim and Blake decide to get with the times and leave the illegal weed business behind by converting their new indie theater into the world's first cinema/marijuana dispensary.
"Cinedopes is a cannabis and movie lover's dream come true; it's the first time audiences can toke up, hit the concessions stand and thoroughly enjoy their cinematic experience," according to a press release from Stoned Girls. "Packed with movie references, quotes and parodies, any fan of film will enjoy this series.
"Cinedopes" has an amazing ensemble cast of characters that will have you laughing out loud. Gorgeous ex-con, Elizabeth, played by creator/executive producer Angeline-Rose Troy (Lifetime's The Good Mother, Who Killed Allison Parks, Imaginary Friend) headlines Tim and Blake's inherited staff of misfits. Villain Kurt Bullman runs the 36-screen Mega-Plex right across the street and is played by comic Ben Morrison (MTVs Punk'd, NCIS, TMZ Comedy Tour). "Cinedopes'" other crazy employees include YouTuber MaxNoSleeves (youtube.com/maxnosleeves), Tara Emerson, Annie Hsu, Cedrick Williams and newcomers Yiming Yee and Lazaro Perez.
There's an added bonus for all the hiphop fans out there. Kottonmouth Kings will be premiering songs that have never been heard before. Season One of "Cinedopes" will be the only place where KMK fans can go and hear their new tracks.
"Cinedopes" will premiere on Tuesday, July 14, at http://youtube.com/TotalAnarchyTV .