Colorado: MMJ America Reports Marijuana Greenhouse Yields Higher Than Indoor Growing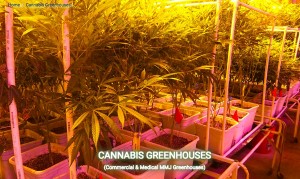 In an effort to expand their production and improve the quality of their products, MMJ America, a supplier of medical marijuana in Colorado, invested in a greenhouse. The facility was equipped with environmental control systems, custom designed for their specific application based on ideal growing conditions.
The company was able to test and verify the marijuana growth in their newly designed greenhouse, compared to their historical method of indoor growing. Identical sized propagated plants were placed in the marijuana greenhouse and under supplemental lighting at the same time. The vegetative plants are seeing anywhere from 30 percent to 80 percent increases in size and weight after just 6 weeks, according to MMJ America.
Malek Noueiry, the general manager of production at MMJ America's multi-facility operations, said he was very surprised at how dramatic the growth was in the marijuana greenhouse. "The plant growth was so much faster than what is typical in an indoor grow, so we had to adjust our fertigation to double the amount of nutrients that plants were capable of absorbing," he said.
MMJ America hired Rough Brothers to design, supply, and install the greenhouse systems to support the controlled environment. The greenhouse was covered with high quality diffused glazing material specifically chosen to allow deeper sunlight penetration into the canopy of the marijuana plant. The control system operates the fertigation, daily light integral (DLI), temperature, and humidity.
About Rough Brothers, Inc. (RBI)
Rough Brothers, Inc. has designed, manufactured, and constructed greenhouses and environmental systems since 1932. For more than 80 years, the company has provided the greenhouse structures to the most reliable growers in the industry. Known for benches, heating, cooling, lighting, irrigation, and environmental controls, Rough Brothers continues in medical marijuana greenhouses in Colorado, Washington, Oregon, Nevada, Illinois, New York, California, Maryland and Florida.