Oregon: Hempstalk Festival 'Will Never Surrender;' Stanford Appeals Permit Denial Again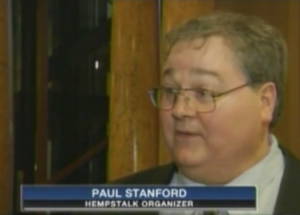 By Steve Elliott
Hemp News
"We will never surrender." That is the message Paul Stanford, organizer of the annual Hempstalk festival, has for the Portland City Council.
Portland parks officials last November denied a permit to Hempstalk for its 2015 waterfront event, reports Andrew Theen at The Oregonian. The free cannabis and hemp festival celebrated its 10th anniversary last year.
Stanford and his supporters will be back in three weeks for another appeal hearing before the Portland City Council. The conflict dates back at least to 2013 when parks and police officials claimed festival organizers had a "demonstrated inability" to control pot use and behavior at prior festivals.
"Any appeal of a parks permitting decision making its way to a City Council hearing is unusual, but two hearings in consecutive years is downright peculiar," wrote The Oregonian's Theen.
City officials, almost certainly not coincidentally, mailed the denial notice just one day after Oregon voters legalized recreational marijuana sales. It was the second denial for Stanford in two years.
The dispute, as in past years, enters on the public consumption of marijuana at the festival.
Stanford said last year that Hempstalk would be "the only place in Portland where marijuana wasn't consumed on that day."
"We did everything we could to curtail marijuana smoking," Stanford said this week. "The city is being dishonest and for some reason they have something against me personally."
The parks bureau, after agonizing over the decision, finally granted Stanford a permit for last year's festival at Tom McCall Waterfront Park, just days before the September event. Mayor Charlie Hales had said months before that if the festival should exist, it belongs at the downtown waterfront park.
City approval came with pages of requirements that festival organizers check bags, add security and generally keep a close eye on attendee behavior, and cannabis consumption, at the festival. Stanford said he did everything they asked, and more.
"The city parks and police people are blatantly lying and that's going to come out in this hearing," Stanford said, adding the city's requirements cost him $55,000 in added security and event costs last year.
Parks customer service manager Shawn Rogers claimed Hempstalk didn't live up to its promises. He said he visited the festival last year to check it out, and he heard speakers from the main state tell attendees to go outside the gates to consume marijuana, which they did.
"I actually felt like I was at risk of getting high," the drama-prone Rogers claimed at the time. "It was pretty intense." (This guy really should get out more.)
"We can't trust that you will stay within the guidelines and laws presented within the permit," Rogers sniffed.
Stanford said an unfair double standard is being applied to Hempstalk. He pointed to the hypocrisy of Portland Police declaring in interviews prior to the Waterfront Blues Festival that officers wouldn't issue tickets to attendees spotted smoking weed.
Hempstallk lost its first appeal, before the Multnomah County Circuit Court, a month ago. The City Council hearing is set for August 27 at 2 p.m.