Colorado: Activists Pull Back On Denver Marijuana Nightclubs Measure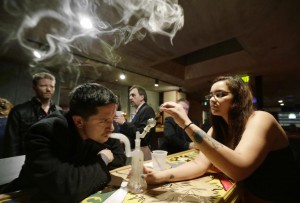 By Steve Elliott
Hemp News
Activists campaigning to allow marijuana to be legally used in adults-only businesses such as bars and nightclubs said on Thursday they are withdrawing a ballot measure that would have put the issue before Denver voters this November.
Sponsors said they were pulling the initiative because they hope to reach a compromise with city officials and business groups that could result in a local ordinance allowing some limited social cannabis use in Denver, reports Jack Healy at The New York Times.
Colorado's recreational marijuana legalization law doesn't allow "public use." But activists said restrictions had prohibited cannabis everywhere except in private homes and a few 420-friendly bed-and-breakfasts scattered around the state.
The ballot proposal would have allowed adults to consume cannabis edibles or inhale vaporized marijuana outdoors, if blocked from public view.
Organizers said it's still too early to know what might be included in any compromise ordinance. If that effort stalls, they said, the ballot measure might be reintroduced next year.
Photo: Ted S. Warren/Associated Press