California: Paige Figi of Coalition for Access Now to Participate at Cannabis World Congress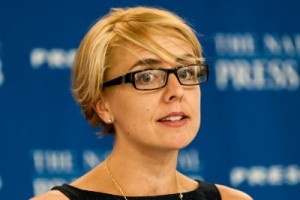 The Cannabis World Congress & Business Exposition on Thursday announced that Paige Figi will be introducing keynote speaker Melissa Etheridge at the Cannabis World Congress & Business Exposition (CWCBExpo), Thursday, September 17 at 2 p.m. at the Los Angeles Convention Center.
Figi, a mother of three from Colorado, was desperate to find a treatment that would help her then 5-year-old Charlotte, who was diagnosed with Dravet syndrome, a severe form of epilepsy, live a better life. For years Figi tried numerous medications and treatments to reduce Charlotte's seizures, some that lasted hours and required life support.
But none of the traditional pharmaceuticals and treatments were reliable or successful in reducing and helping Charlotte's life-limiting condition. Looking for a final result, she researched alternative therapies, discovering a type of hemp oil that had no major side effects or psychotropic effects.
Figi started giving Charlotte a natural, therapeutic hemp oil with low THC and high CBD (cannabidiol), reducing her daughter's epileptic symptoms and seizures from hundreds per week to less than three per month.
Finding the impact this type of therapeutic hemp had on Charlotte; the product now carries her name, Charlotte's Web™ Oil. Figi co-founded the Realm of Caring 501c3 to assist families with similar disorders.
She recently founded a 501c4, the Coalition for Access Now, to help other children struggling with debilitating conditions get access to the treatment they need without uprooting families to Colorado and California. The Coalition works to highlight the benefits of hemp by funding educational efforts and lobbying for this type of hemp oil that is natural, safe and reliable.
Through the Coalition, Figi is advocating for the production of therapeutic hemp products in states where it is legal, and pushing to change legislation in states and countries where it is not.
"Paige has changed the face and discussion about CBD and its benefits across America and around the world," said Geoff Whaling, founding member and Board treasurer of Coalition for Access Now. "She, more than any other person, knows the potential for CBD therapy.
"As a parent fighting for her child's life, she researched what was happening in Israel, found a non psychoactive CBD rich plant and then learned how to extract the oil that gave Charlotte her life back," Whaling said.
"It is an honor to participate in the CWCBExpo and introduce the talented Melissa Etheridge," Paige Figi said. "She has used her celebrity and personal experience to help create awareness on the benefits of alternative therapies for treating serious illnesses and providing pain relief."
The Coalition for Access Now and Realm of Caring will also have booths at CWCBExpo In LA and will be sharing information and updates on current lobbying efforts and organizational activities.
The Coalition for Access Now are the sponsors of the "Sports Pain Management and Cannabis" panel with former NFL star players, Nate Jackson and Lorenzo Neal, that takes place on Thursday, September 17, and also includes panelists from Realm of Caring and the medical community.
In addition to Melissa Etheridge giving a high-profile talk, CWCBExpo in LA will also feature keynotes by entrepreneur and philanthropist, George Zimmer, founder of Men's Wearhouse and Ztailors, and Ethan Nadelmann, founder and executive director of the Drug Policy Alliance (DPA).
The educational program at CWCBExpo in LA includes more than 60 sessions that focus on the elements for moving the marijuana industry forward including tracks for Creating Your Business; Running Your Business; Business Growth; Industry Leaders; and Cannabis Future.
CWCBExpo in LA also presents in-depth workshops on September 16 on investing, careers, and how to open a cannabis business, and an exhibit floor, September 17-18, with suppliers in the industry showcasing cutting-edge products and services.
More information for the CWCBExpo in LA can be found at http://www.cwcbexpo.com/los-angeles-show/registration.asp.